Polish radio broadcasts a statement by the country's chairman, Mateusz Moravetsky. In an interview with the German edition
The World
The Polish Prime Minister commented on the approval by the German authorities of the Nord Stream 2 project. Recall that earlier in Germany it was decided to approve the construction of a gas pipeline in the territorial waters of Germany and on a land plot in the Greifswald region.
According to Moravetsky, the construction of "Nord Stream-2" creates "additional points of tension". Further, Moravetsky agreed to the point that he announced: "The implementation of the project for the construction of a new gas pipeline could lead to war between Russia and Ukraine."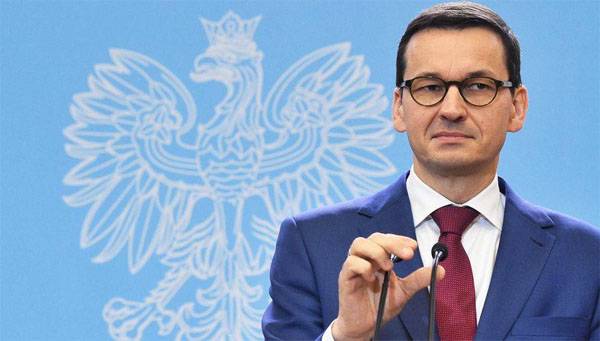 Polish Prime Minister:
Russia will have the opportunity to aggravate the conflict. She will be able to attack the whole of Ukraine. And Nord Stream-2 is a step in that direction. Nord Stream-2 is an unnecessary and even harmful project. It leads to the separation of Western society.
Recall that in the 2019 year expires the agreement on the supply of Russian gas to Ukraine and the transit of gas through Ukraine to Europe. Not so long ago, the Stockholm arbitration ordered Kiev to pay about 2 billion to Gazprom for previous deliveries and to resume the purchase of gas directly from Russia. This is clearly not satisfied with Poland, since the Polish authorities may end up losing the benefits of the so-called gas reverse on the territory of Ukraine. It is also understood that if they implement "SP-2" and stop gas transit through Ukraine, they will have to buy Russian gas already in Germany - at a completely different price. Hence the hysteria of Moravec.