A group of deputies from the Communist Party of the Russian Federation headed by Gennady Zyuganov submitted to the State Duma a bill on the fundamentals of nationalization in the Russian Federation, reports
RIA News
.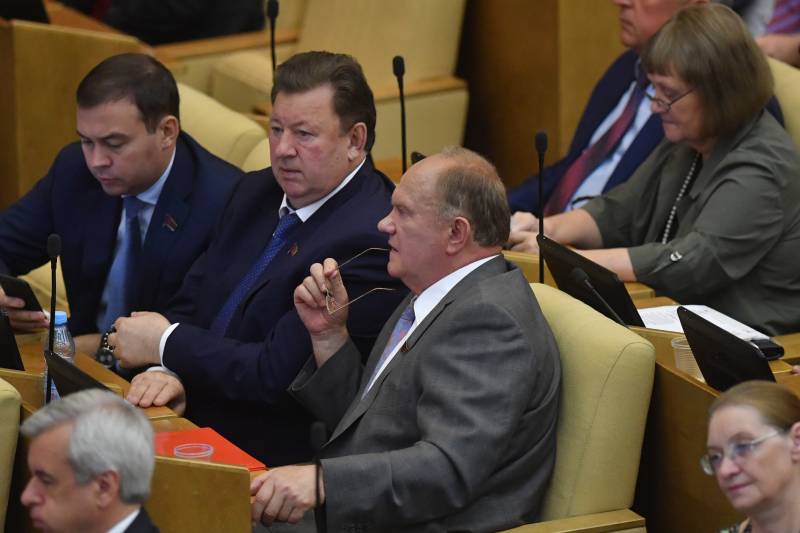 According to the document, "nationalization means compulsory forcible seizure of privately owned property and its conversion into federal property in order to ensure state forces of the Russian Federation related to improving the overall efficiency and social orientation of the economy, ensuring national security and sovereignty of Russia, ensuring the rule of law, social rights of citizens and the preservation of national wealth. "
It is noted that "nationalization is a last resort and is carried out only on the basis of adopted federal laws, and on a reimbursable basis with a preliminary and equivalent reimbursement by the Russian Federation of the value of property and other losses caused to the owner as a result of nationalization."
At the same time, nationalization is not a punishment or a way to ensure the fulfillment of obligations.
"Nationalization can be carried out through the withdrawal of property and its conversion into federal property, the increase in the value of property at the expense of the federal budget (including by increasing the authorized (share) capital of the organization to a controlling stake or state share over 50%), transferring the state-controlled control organization a stake (shares, shares) of the nationalized company, as well as methods not prohibited by law, the document says.
The authors identified the grounds for the application of the law. These include, in particular, "the threat of a massive reduction in the staff of a city-forming or socially significant organization, the recognition of a strategic enterprise as bankrupt, the monopolistic or dominant position of an enterprise, the privatization of state-owned enterprises with violation of current legislation or at deliberately low prices, the acquisition by foreign capital of controlling equity stakes societies created on the basis of state-owned enterprises-monopolists, other circumstances. "