An unexpected statement was made by the leaders of the Kurdish armed groups stationed in the Afrin district. TV channel
"Al Mayadeen"
quotes a statement by the commander of the Kurdish people's self-defense detachments (ONS / SNS) Sipan Hamu:
We appeal to the government forces. The CAA urgently needs to send reinforcements to the border with Turkey.
The Syrian army cannot remain aloof from what is happening in Afrin, where Turkish troops continue to act against the Kurdish population in Syrian territory.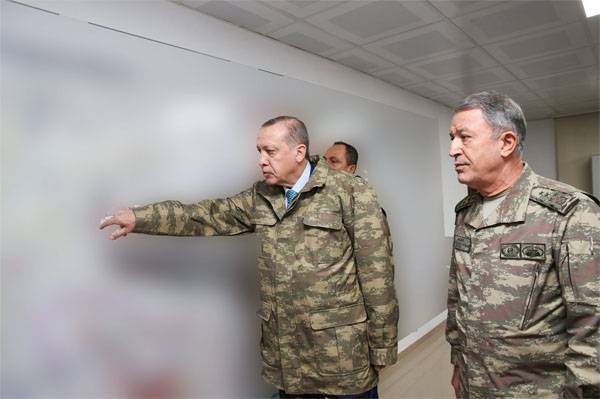 Erdogan at the map, which is retouched by the Turkish General Staff
According to the field commander of the Kurds, at the moment between the detachments of the Kurdish self-defense and the Syrian armed forces "maintained a close relationship."
To date, the Kurdish ONS are engaged in active hostilities with the pro-Turkish "Syrian Free Army". During the operation, according to reports, the pro-Turkish formations lost up to 200 people killed and more than 500 wounded. Turkey, during Operation Olive Branch, lost at least 27 to its servicemen. The Kurdish troops themselves claim a loss of about 150 fighters. Turkey claims to have eliminated "more than a thousand terrorists", meaning by the term "terrorists" precisely the Kurdish troops.
Earlier, the Kurdish security forces refused to come into contact with the Syrian government forces, preferring to seek support from the United States. Now, when the Turkish army is conducting a large-scale military operation against the YPG in the north of the province of Aleppo, Kurdish field commanders suddenly remembered the possibility of joint actions with the CAA and that the Syrian army was "responsible for the Syrian territory."