Russian President Vladimir Putin conducted telephone conversations with his American counterpart Donald Trump. The main topic of the talks concerned the issues of the Palestinian-Israeli conflict and the search for solutions to it. On the conversation between Putin and Trump said the head of Palestine, Mahmoud Abbas. Information was confirmed by the press service of the President of the Russian Federation.
It is noted that Trump expressed condolences in connection with the death of people during the crash of the An-148 aircraft in the Moscow region.
The United States White House noted that among other things, the presidents of the Russian Federation and the United States discussed the issue of "the denuclearization of the Korean Peninsula."
In the course of Vladimir Putin's talks with Mahmoud Abbas, the problem of de-escalation in the Middle East was raised.
Press office
The Kremlin leads the Palestinian leader's statement:
From the moment Donald Trump was elected President of the United States until September of last year, I met him four times. And he always told me about the deal that he could work out in order to put an end to the Arab-Israeli confrontation.
All this time we have been waiting to see this decision, to see and hear about how it will be implemented. However, then for us a huge surprise was the decision of the US government a few months ago to close the representative office of the Palestine Liberation Organization in Washington.

There were our own reasons for this, which we consider strange, I will tell about them, I mean the reasons for the Congress to support such a step. The reason is that the US Congress considers us, that is, the Palestinian National Authority, and the PLO since 1987, to be terrorist organizations. And accordingly, this decision affects our relationship with the US government. However, the US government, every 6 months made exceptions for us.

And therefore, it was very surprising for me to hear how the US Congress could take such a view, given that we have long-term relations with the United States, exchanged visits, and they provided us with help, and we constantly had contacts. And then suddenly they call us terrorists.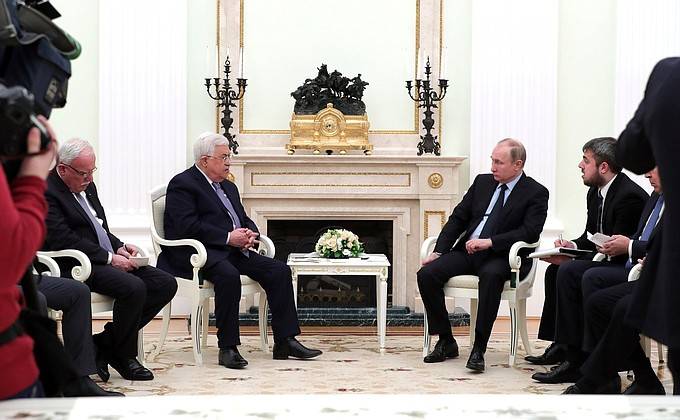 Further, Mahmoud Abbas said that Palestine after the last steps of the United States decides to refuse to cooperate with Washington as a mediator in relations with Israel.
Abbas:
And in a similar atmosphere, which was created by the actions of the United States, we declare that, starting now, we have refused to cooperate in any way with the Americans in their status as an intermediary, since we are opposed to their actions.
Apparently, in a telephone conversation with Trump, Vladimir Putin announced the decision of the head of Palestine.