Israeli media publish interim results of the investigation into the impact of the Syrian air defenses on the F-16i aircraft of the Israeli Air Force. Recall that the combat aircraft, which attacked military targets in Syrian territory, collapsed after the "otvetka" from the ground.
According to 13 TV channel ("Reshet"), the plane attacked the Iranian military mobile point. Stated that we are talking about the point in which the operator was an Iranian drone, previously shot down on the approach to the Israeli border. The Israeli military claims that the UAV has crossed the Israeli border. In Syria, this is refuted.
The Israeli media, citing Brigadier General Tomer Bar, report that the F-16 "maneuvered at an altitude of about 3 km above Galilee." Three more aircraft of the Israeli Air Force operated there together with him. General Bar states that the shelling of the air forces of Israel was carried out using several anti-aircraft missile systems.
Tomer Bar:
They used the C-200 air defense system, as well as the Beech.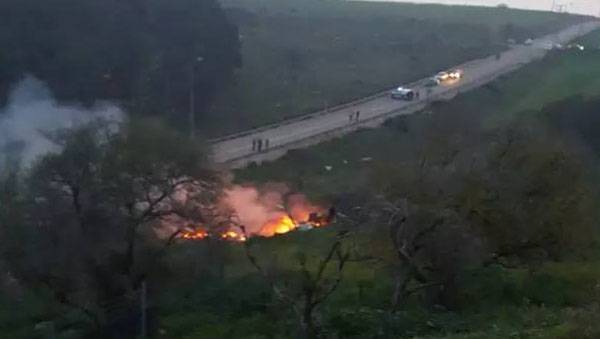 According to the statements of the Israeli brigadier general, a total of 25 missiles were fired from the Syrian territory.
Tomer Bar:
One of the missiles exploded in the immediate vicinity of the F-16i cockpit, it (the cabin) was pierced, one of the pilots was wounded. It was decided to eject.
In the Israeli media claim that the pilot did not make a maneuver to escape from the rocket, as "was focused on monitoring another ground target."
In the Syrian media say that about any "25 fired missiles" air defense systems can not speak. It is noted that no more than 3-x missiles were produced on Israeli aircraft. Official Syrian sources say about one missile air defense system.