As the American edition of Defense News reported, the Czech Ministry of Defense canceled the 33 152 self-propelled 77-mm howitzer Dana vz.8 retrofitting program on a wheeled chassis with the 8 XXNXX formula of the Czech army, and in return announced plans to purchase 50 155-type self-propelled howitzers. one of the NATO countries. " It is planned to allocate up to 52 billion CZK (up to 10 million dollars) for the purchase of new SAUs.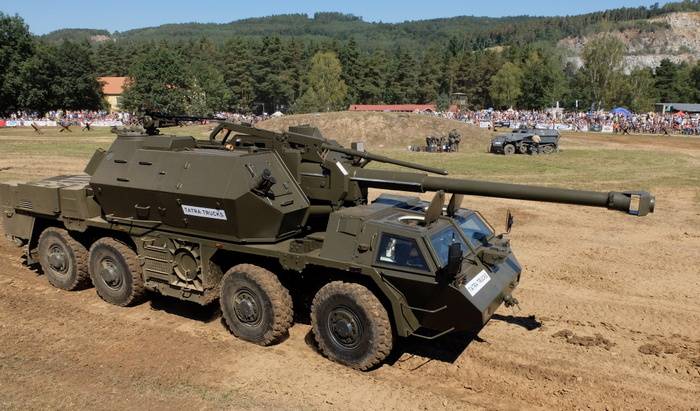 According to initial plans, the Czech Ministry of Defense intends to modernize 33 self-propelled howitzers Dana caliber 152-mm / 37, and highlight 2,5 billion kroner for the purchase abroad to 2022 year 17 modern self-propelled howitzers 155-mm / 52, with a range of up to 40 km , and another 2 billion crowns - for the purchase of appropriate ammunition caliber 155 mm to them. Now, instead, they plan to purchase 50 Western SAUs of 155-mm / 52 caliber right away, writes bmpd blog
The Dana M1M prototype was first demonstrated by Tatra Trucks in August 2016. The modernized ACS has received a new cabin with improved ergonomics and security, a new filtering unit, as well as air conditioning and heating systems. The standard engine of the ACS Tatra T-930 received an upgrade package in order to increase the resource and efficiency and improve compliance with modern environmental requirements. On the chassis installed a new semi-automatic transmission Tatra-Norgren.
The ACS also received an auxiliary power unit, an all-round video camera system, new lighting equipment, a centralized tire pressure monitoring system, and upgraded hydraulic drives. In addition, it was proposed to install a new fire control system developed by the Czech company Retia, which is part of the Czechoslovak Group, as well as American-made GPS navigation equipment.
It was also reported that Slovak companies MSM Martin and ZVS Nová Dubnica, in partnership with the Czech company Explosia, were to supply new artillery ammunition of the 152 caliber mm for the modernized SAU Dana. In particular, it was planned to introduce a new aerodynamic DN1CZ high-explosive fragmentation projectile with a bottom gas generator and a Р740 liner charge, having a Dana cannon range in 25,5 km (the maximum range of a conventional projectile is 18,7 km).
The Dana self-propelled howitzer on the 8x8 wheeled chassis (based on Tatra 815 undercarriage) was developed and mass-produced by ZTS Dubnica (Slovakia) from 1981 to 1993 years. Altogether, 672 systems were made together with experimental and pre-production samples, of which 415 was supplied by the Czechoslovak People's Army, 128 to the USSR Armed Forces, 111 to the Polish Army and eight were exported to Libya. Later, on its basis, ZTS Dubnica developed improved versions of Ondava (with 152-mm / 47 howitzer), Zuzana (with 155-mm / 45 howitzer) and Zuzana 2 (with 155-mm / 52 howitzer), of which only Zuzana was mass-produced (16 was supplied to the army of Slovakia and 12 to Cyprus).