In Volgograd, there was a parade dedicated to the 75 anniversary of the defeat of the German fascist troops in the city on the Volga. The spectators of the parade dedicated to the anniversary of the victory in the Battle of Stalingrad, were at least 30 thousand people. Up to one and a half thousand servicemen of the Armed Forces of the Russian Federation and representatives of other law enforcement agencies, including the Ministry of Internal Affairs and the Ministry of Emergency Situations took part in the parade.
Colonel-General Alexander Dvornikov, commander of the troops of the Southern Military District, took the parade that took place on the Fallen Fighters Square. His statement leads
RIA News
:
The liberation of Stalingrad from the Nazi invaders is a significant event not only in
stories
Great Patriotic War. This victory is the brightest milestone in the heroic chronicle of our Southern Military District, the successor to the legendary North Caucasus. At Stalingrad, in Sevastopol, Novorossiysk and Kerch, victories were won, changing the course of the Great Patriotic War.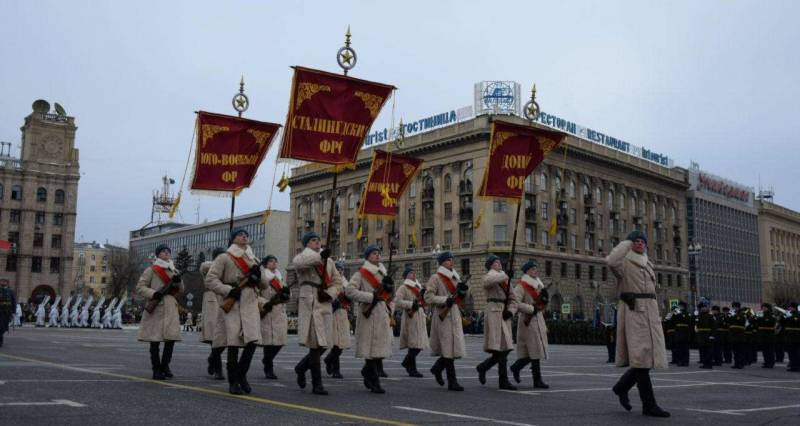 Military equipment was also involved in the parade. This is more than 60 units of various weapons, including
Tanks
T-72 and BTR-80, as well as MLRS "Tornado-G", multi-purpose SUVs, OTRK "Iskander", S-400, etc.
From the air of the descendants of the glorious Stalingrad and veterans of the Battle of Stalingrad, congratulated the commander of the aerobatic team "Swifts" - directly from the aircraft.
The program of solemn events in Volgograd, which on such a significant day has the full right to bear the proud name of Stalingrad, will last until late evening.