But Washington is really easy to understand. Judge for yourself - the state that actually becomes a winner in the Cold War (at least, declares itself as such) and instead of a formidable rival gets fifteen distant from each other republics, many of which are mired in civil strife, have something to grind their teeth and swing their fists with intimidation with new and new sanctions.
First of all, it is "abyd" for Washington that the ruins of the "Soviet empire" began not only to speak, but also to show signs of having their own word. It was a case when uranium was taken out, strategic bombers sawed, at all the most important sites of the nuclear industry American "friends" watched the legs of Bush, "Ankle Bens" and American technical alcohol under the guise of "natural products" positioned as a food benefit for Russia. There were times when the president danced to the amusement of his Washington colleague or walked past a urinal. And now - it is just the time for the States to take up their heads - we are releasing such an obedient serf from the hands - and will arrange it for himself ...
And secondly? - Secondly, more interesting. During the registration of the Russian Federation as an overseas serf in the years of 90, Big Brother allowed servitude in such a way that the oligarchy would have its feeding trough. The condition is actually one thing - you can take where you want (from popular resources), as much as you want and when you want, but everything "earned by honest and overworking labor" should actually serve the gigantic American debt (as much as possible). In other words, the oligarchs (future at the time) received a kind of "Khan's" label, in the presence of which they could drag, drag, drag, keeping their billions in the course of the American economy - at least in dollars. And, as you know, in the United States acts a law, which any transaction in any country in the world, carried out in dollars, regards as a reason for extending its (American) legislation to this transaction and its defendants. In American currency, the American Themis is ready to spread its arms ...
So here. The American owners must have been pretty surprised: they have slaves for money, the American Themis didn't betray the wheels of personal enrichment at the expense of the Russian resources for Russian serf oligarchs of the Russian Federation (please, yacht, club what kind of football or basketball, Forbes - and it can). And you, servants, do not realize American interests in Russia in such a way that it was a) obvious to everyone around, b) everyone fell down on the United States in understanding the greatness of this self-named "owner" of the unipolar world.
Of course, it came to a rage. We have supposedly given you the resources to take away? - gave. We did not drag you to the American courts? - not dragged. And you go?! .. Why slaves owner, who keeps your "lardy" in his bag, do not howl? Or do you want the owner of your "honestly earned money" turned into "shards" for you and 100% assets for yourself?
The serfs pretended that they did not quite understand to whom the slaveholder refers - you are the master, to whom of us specifically say? We have nothing against you, master, we do not have. It's just that there, in Russia, they themselves are trying to "re-erect" and put them under another owner. You know the name, the owner, he got out of his hands at all ... your will, they say, he calls his dirty words.
Here is the transatlantic host and decided to concretize - everything, so to speak, on a list basis - is extremely intelligible, even with photos. It is possible that there are enough random people on the list, but in general "clients" are such, where the assets are kept not in the savings bank of the average Rybinsk, Kaluga or Syktyvkar.
In general, a lucid list explains: who is the real owner of the "elite", recalling where slaves have "slave" real estate, assets, and whose schools have sons and daughters. Well, this is in case, if someone from the current elite finally played as if in patriotism. This is when representatives of the elites are on the air - completely patriots, and as soon as we talk about the mother-in-law's house somewhere in Florida, they switch to something from the series: "you better look at Ukraine ..." And if you really see what is Ukrainian oligarchy, that Russian - one field of berries. And while confronting their heads in the hope of dividing billions "in a boy's way", people are fed
stories
about how those and others love (each their own) homeland. And where is this Motherland - where is the billion hiding, where are the kids in business universities or ...
There is still such a question: why in the year 60 or 70 did American "partners" not publish any "Kremlin lists"? Of course, there were sanctions, but not only personal lists: according to the embargo, the pipes for the Druzhba gas pipeline — there were, according to grain — there were Olympics — they were boycotted, and according to flight connections — they were. But is it possible to imagine that a list of hundreds of representatives of the "environment", for example, Leonid Brezhnev, appear in the USA at that time?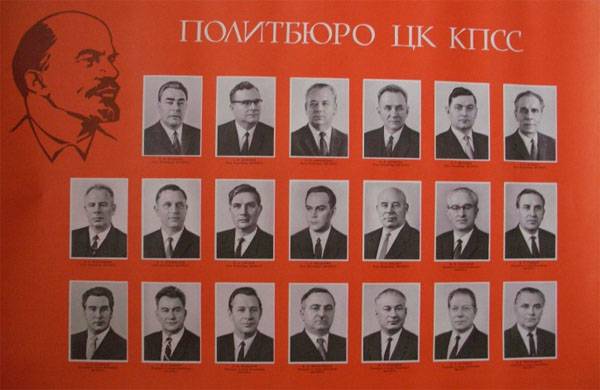 But there would be no point then in such a list, because there were no children of Leonid Ilyich's entourage to study in US schools (not at embassies), there were no accounts in American banks, there were no villas in Florida and football clubs in Foggy Albion. The fact that the children of the Soviet leaders themselves (individually) reached after the beautiful life beyond the ocean was already a separate question ... But with the extensive lists of 40-50 years ago, it would have been difficult for the "partners".
In general, the fact is that they look at our elites from Washington, to their accounts in American "receipts" and they are perplexed: dollar slaves, you wanted St. George's day, or what? And to get away from the owner, you need to fulfill all obligations to him - remember? And in general, the American tradition of St. George's days does not provide for a run for work, the sun is still high. And don't forget who your money works for, and you work for it! ..