Brussels still insists on closing the Armenian (Metsamor) NPP, reports
Kommersant
referring to the deputy head of the Eastern Partnership in the European External Action Service (EEAS, EU MFA) Dirk Lorenz.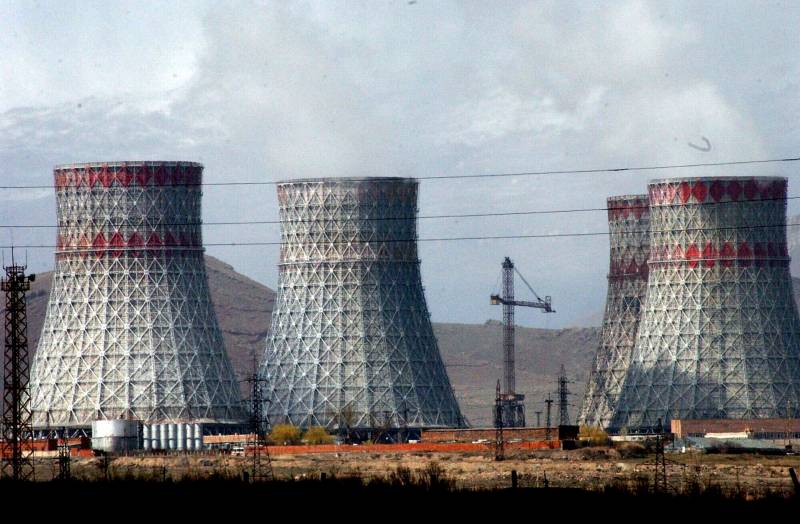 It is impossible to improve it so that it fully complies with international safety requirements,
said a European official.
The newspaper recalls that under the agreement with the EU on a comprehensive and extended partnership (CEPA) of 24 in November 2017, Yerevan pledged to bring its regulations into line with EU standards. "This also applies to nuclear safety: the decommissioning of the Metsamor NPP is a key goal in EU cooperation with Armenia. The EEAS awaits proposals from Yerevan on the relevant "road map", "the article says.
The Armenian NPP was commissioned in the 1980 year (2 unit with reactors of 440 MW), it was stopped in the 1989 year after the Spitak earthquake. This caused an acute energy crisis in the country, and the nuclear power plants were again launched in 1995 year. Now only the second unit (407,5 MW) is operating, providing more than 40% of Armenia's electricity needs. The construction of a new block of funds in the republican treasury was not found.
Yerevan's position on the nuclear power plant looks cautious. A press secretary of the Ministry of Energy, Vasak Tarposhyan, confirmed that following the results of the negotiations with the EU, it was "clearly formulated" that Yerevan "should develop a roadmap" of the dismantling of the nuclear power plant. However, according to him, this "requires a certain time, and it is obvious that the nuclear power plant should stop working at a certain moment".
Tarposhyan added that for the time being the "program to extend the life of the power unit by ten years (up to 2026 year)" is being implemented. The funds were given by Russia in the form of a loan of $ 270 million and a grant of $ 30 million. Rosatom structures are implementing the program.