The Turkish General Staff reports that it is increasing the concentration of forces and assets near the border with Syria against the background of the ongoing operation against Kurdish PYD / PKK troops in Afrin. What is the reason?
Under the control of the Turkish gendarmerie forces, dozens of additional infantry fighting vehicles were transferred to Kilis, who was subjected to another rocket attack from Afrin,
tanks
and armored personnel carriers.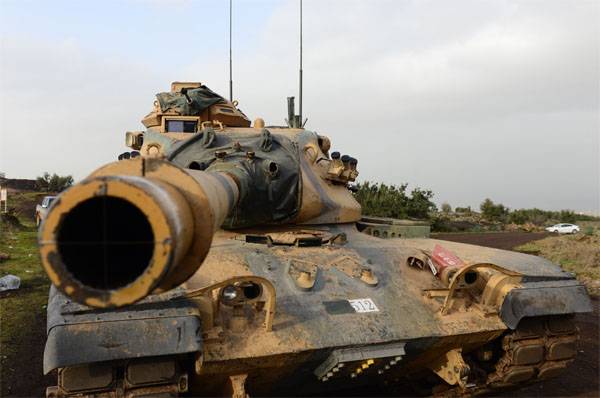 At the same time, the Turkish media reported that in the area of ​​the conflict another column was sent with the so-called "Syrian Free Army" (FSA), supported by Ankara.
From early morning today, Turkish troops using self-propelled artillery systems are shelling the positions of Kurdish troops in the region of Afrin. The fire is conducted from the territory of the provinces of Kilis and Hatay (Turkey).
Information Agency
Anadolu
with reference to the military command reports that about an hour ago (11: 00 MSK), Turkish troops, with the support of the SSA, drove the Kurds out of the settlement of Bak Ubasi in the immediate vicinity of Afrin. At the same time, it is reported that after entering the Buck Ubasi, numerous underground communications PYD / PKK were discovered.
The Turkish General Staff claims that since the start of Operation Olive Branch, more than 700 "militants of the terrorist groups" have been eliminated. Terrorist units Ankara calls the Kurdish armed forces.
Against this background, attention is drawn from Syria explaining the build-up of the Turkish grouping in the area of ​​the Syrian border. Kurdish troops, which the US planned to use in opposition to the Syrian government army in the area of ​​the previously liberated CAA Deir ez-Zor and Abu Kemal, are urgently deployed to Afrin. Representatives of the Kurdish troops, some of whom are posing against the backdrop of American military equipment, state that they "are already moving from Deir ez-Zor to Afrin, so that the Kurdish people can prevail over Turkey."
It's not bad
news
for the Syrian government forces. After the withdrawal of Kurdish troops, supported by the United States, from the Deir ez-Zor area, the CAA may well be able to take control of virtually the entire territory of the province - up to its northern territories. Will they take advantage of this chance?