In the 2019, the Northern Fleet will receive an upgraded rescue deepwater apparatus (MUH) of the Bester 18270 project, which has unique characteristics worldwide, the Ministry of Defense of Russia reported. The device is being repaired and upgraded at the Kanonersky Shipbuilding Plant of St. Petersburg, the progress of work is monitored by the Search and Rescue Service of the Russian Navy.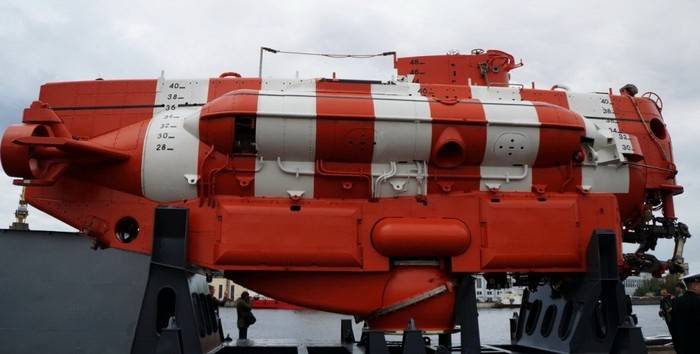 "Bester" is designed to rescue crews of emergency submarines lying on the ground at a depth of 720 meters. At the same time, it can lift up to 22 sailors to the surface. After modernization, the MUH will have the same characteristics as the Bester-1 devices (18271 project).
Their main feature is the ability to evacuate people when they roll a sunken submarine to 45 degrees, whereas all world analogues are able to save the crew when they roll only in 15 degrees. This was achieved thanks to a new landing guidance system and attachment to an emergency submarine using a suction chamber.
According to the ministry, the device is equipped with a life support system that works reliably with increased pressure in the rescue compartment, which ensures that not only the "dry" method, but also the "wet" method can be saved (at depths to 60 meters).
In addition, MES "Bester-1" is equipped with a new flow ventilation system, which allows you to start decompression of rescued submariners already in the process of ascent, which reduces the time subsequent people stay in the pressure chambers. Displacement, t - about 41; height, m ​​- 5,2; speed, knots - 3,2; the number of saved people - 22
- said in a statement.