Repair and modernization of the heavy nuclear missile cruiser "Peter the Great" will begin in 2020 year before the completion of work on the same type "Admiral Nakhimov". It is reported by TASS, citing a source in the Russian defense-industrial complex (DIC).
"Peter the Great" will be repaired no later than 2020 of the year, it is expected that its modernization will take four to five years, that is, two times faster than that of Nakhimov. We hope that this will be possible thanks to obtaining the necessary funding.
- Said the source agency.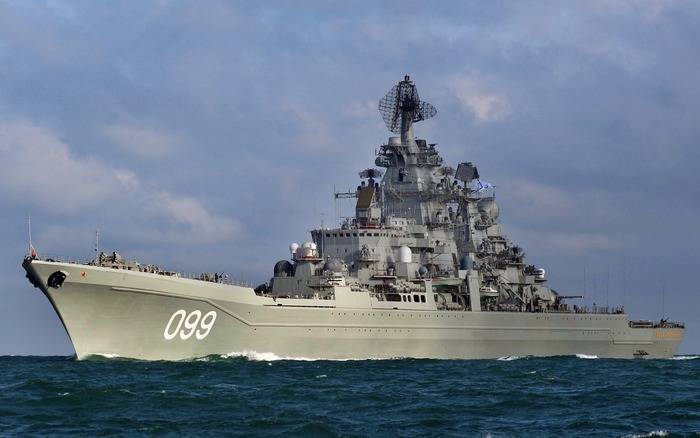 At the same time, the president of the United Shipbuilding Corporation (which includes Sevmash), Alexei Rakhmanov, in response to a request to comment on a possible change in the timing of the repair of the cruiser Peter the Great, stated that he does not have such information.
According to a source in the defense industry, it was originally planned to begin upgrading the Peter the Great after completing work on the Admiral Nakhimov in order to have at least one ship of this class in the Navy.
However, due to the delay in work on the "Nakhimov" until 2022, this is not possible - the operational resource of the flagship of the North
fleet
not enough to be afloat before this time
- explained the source.
According to sources in the military-industrial complex, in the course of the modernization it is planned to re-equip the 11442 cruisers with new Onyx, Caliber missiles and hypersonic Zircons (instead of the current Granites). Also on the ships, it is expected that modern anti-aircraft missile systems, communication systems, navigation, life support, etc. will be installed.