At the facilities of the naval base Mar del Plata (Argentina) arrived an expanded commission of law enforcement officials. The check on the basis of the Navy, where the submarine San Juan, which had disappeared more than 2 months ago, was supposed to arrive, was authorized by the federal court of Argentina.
Police officers are checking in four sectors of the naval base, including the logistics management sector, as well as the command of the submarine forces of the Argentine Navy.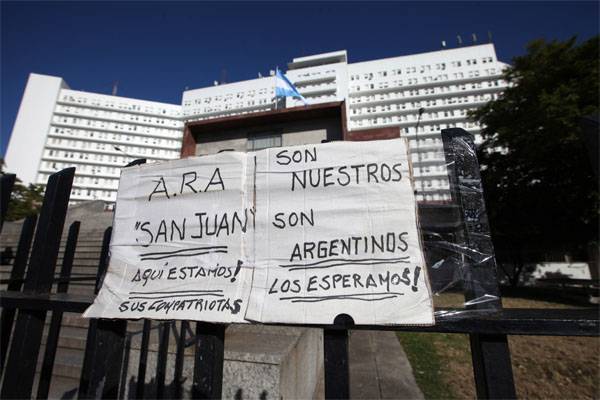 Argentine newspaper
El tribuno
writes that the check at the facilities in Mar del Plata is carried out after a personal meeting of the Minister of Defense of the country Oscar Aguada with 27 family members of the military team of the missing San-Juan diesel submarines. These people do not leave the territory in the area of ​​the naval base in the hope of receiving from high-ranking military officials and base command the answer to the question of what actually happened to the submarine. Also, the relatives of the sailors demand to inform them about the whereabouts of the submarine "San Juan".
Recall that the Argentine Navy submarine stopped contacting 16 in November last year. It is reported that at the time of the last communication session, the DEPL commander reported problems related to a short circuit in the power supply system. On board the submarine were 44 man. The submarine made the transition from the south of the country to the base of Mar del Plata.
The fact that the police specifically are going to clarify for themselves and the Argentine public during a check at a military site is not reported.