Warsaw and Washington are negotiating the deployment of a base of US unmanned aerial vehicles on the territory of the 12 base UAV Polish Air Force in Mirosławiec. This information was confirmed by the press secretary of the General Command of the Polish Army.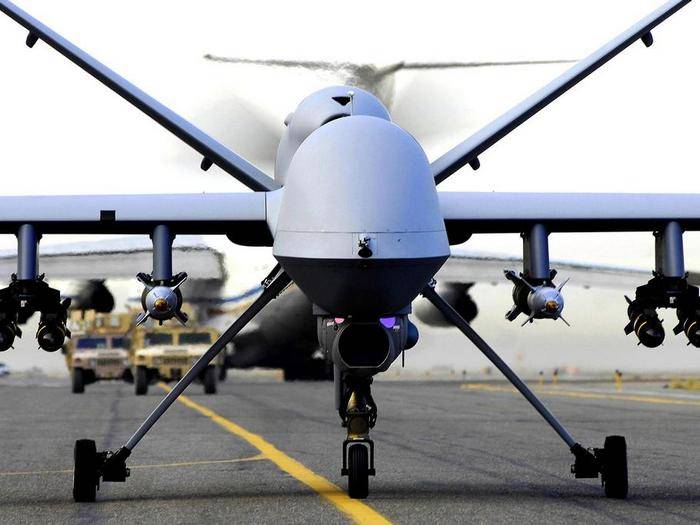 Military experts claim that the Pentagon plans to deploy the MQ-9 "Reaper" UAV. Despite the fact that the Ministry of National Defense of Poland does not comment on these data, it is known that the American side has already conducted a reconnaissance in Mirosławiec and in the spring of this year MALE (medium-altitude, long-duration drone) drums may appear here. Meanwhile, the Polish Army has no drones of this class, but by the end of the 2018 of the year, as part of the technical modernization of the Polish Armed Forces, it is planned to sign an agreement to purchase them.
It should be noted that the MQ-9 "Reaper" multipurpose UAV, which may soon appear in the territory of neighboring Poland, are capable of carrying the GBU-12 Paveway II, GBU-38 JDAM bombs, Hellfire air-to-surface missiles (fits 4 missiles) and deliver strikes ground targets with great efficiency. Also "Reaper" can be used as a scout.
The maximum starting mass of the MQ-9 "Reaper" UAV is 4,7 t, of which the payload is 1,7 t. The device is capable of speeding up to 370 km per hour (according to some sources up to 480 km per hour), flying at an altitude of 18,5 km. The maximum flight time of the UAV MQ-9 "Reaper" is equal to 27 hours, transmits
"NVO"