A portable reconnaissance robot, a compact floating complex with a modular architecture, is being developed for the intelligence services of the Rosguards,
News
.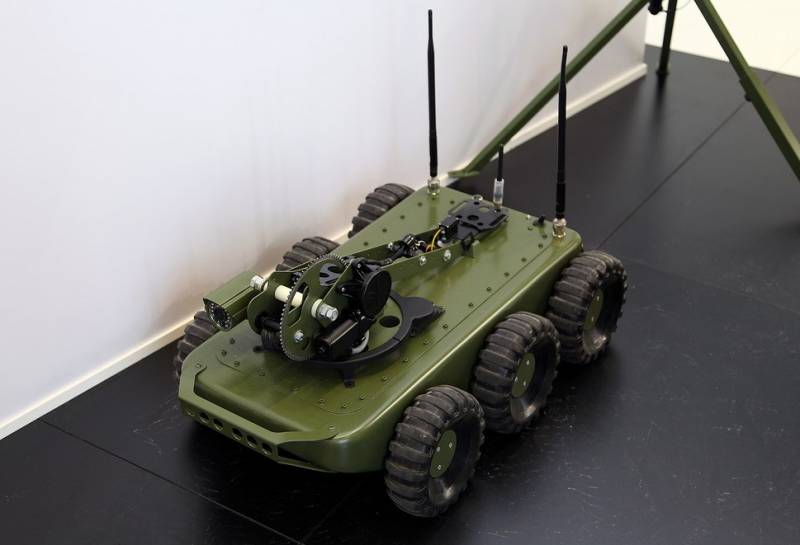 The main development work will be carried out by a scientific company recently set up at Rosgvardia, where graduates from leading universities of the country serve. The basis for the new system was a compact land drone KRMM-06. For her already created several replaceable sets of attachments. The operator, depending on the situation, will install the necessary sensors or instruments.
"The KPMM-06 chassis is a small six-wheel all-terrain vehicle with an electric motor. It can travel at a speed of 5 km / h and overcome obstacles up to 130 mm. Sealed drone able to swim. Due to its small dimensions (68 cm long and 44 cm wide) and weight up to 25 kg, the CRMM-06 can be carried by one person - like a backpack. Bring it into combat readiness in a few minutes. These properties are of interest to the sappers, and now to the scouts, "the material says.
KRMM-06 passed tests and was adopted for engineering sapper divisions of the Russian Guard. On one sapper platoon relies one robotic complex.
It is reported that "the standard manipulator allows you to move a cargo weighing up to 1,5 kg and install it with an accuracy of 50 mm to the platform height to 600 mm." That is, a robot can, for example, deliver a charge of explosives to a suspicious object and destroy it.
According to military expert Oleg Zheltonozhko, compact complexes are an excellent means of conducting reconnaissance.
If the watch of the enemy remain vigilant, they can relatively easily detect flying drones. Compact ground robots have the advantage of stealth. At the same time they can carry more serious means of optical reconnaissance than inexpensive tactical UAVs,
an expert told the newspaper.
He added that the modular infantry robot can solve a number of important tasks.
With their help, you can covertly examine the positions of the enemy, identify firing points, natural obstacles and engineering obstacles, such as minefields. And all this is hidden, without risk for its personnel,
said Zheltonozhko.
According to the newspaper, in its current form, the KRMM-06 is intended for studying the terrain and remotely detecting and destroying explosive devices. It is equipped with a manipulator, two video cameras, as well as a search for explosive devices with a range of up to 25 meters.