Representatives of the Russian delegation to the PACE Konstantin Kosachev and Peter Tolstoy spoke about a curious incident that occurred during breakfast before the assembly session. To understand the situation, one should first present the Ukrainian interpretation of events.
So, in the Ukrainian version of the event unfolded as follows: People's Deputy of Verkhovna Rada Maria Ionova went to the table of the representatives of the delegation from Russia and said: "Glory to Ukraine." According to Ionova, the Russian deputy (Peter Tolstoy) answered her: "Glory," and Ionova herself commented on it this way: "Well done, learned".
After such publications in the Ukrainian press, Konstantin Kosachev decided to provide information about how everything was actually in Strasbourg, thereby exposing that phantasmagoria, in the fog of which Ukrainian colleagues are staying. From the publication of Konstantin Kosachev in
Facebook
:
Another Ukrainian "below the plinth" with the PACE. Complete nonsense.

So. A certain lady from the Ukrainian parliament arranged a PR-number from a fleeting episode this morning at breakfast in, alas, the common room of the same hotel where we stayed.

Blatant interpretation. I was there. Some lady that we (Tolstoy) Tolstoy and I took for service personnel, because I didn't look very good (excuse me), passing by our table, spoke Glory to Ukraine under my breath and, without waiting for an answer, moved on. Apparently, proud of herself and considering the mission fulfilled.

In front of me, in the back of my eyes, colleague Tolstoy joked "to the heroes of fat" without understanding who was in front of him (did not introduce herself) and without attaching any importance to it.

Either her hearing is not all right, or her conscience. Rather, the last.

By the way, before that, in the main hall, where everyone had breakfast, there were leaders of the Ukrainian delegation, and all of them, seeing me and Tolstoy, just gathered "their own croissants." Gone, without commenting.

It is not even embarrassing to describe this situation. But the Ukrainians, apparently, after yesterday's failure in the ad hoc Committee, have nothing more to boast, especially for travelers, before the administration in Kiev, except for a fleeting exchange of barbs at breakfast.
Which no one would have rightly noticed, if it were not for the "world" chatter on this subject.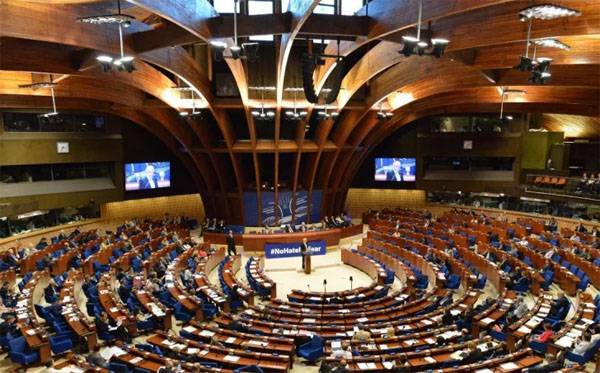 Really, disgusting. Plinth.
Whether the Russian deputy needed to answer Ms. Ionova and the entire Ukrainian "public" is a separate question.