A small preface.
The century is 100 years. We have lived a century, albeit in two different countries. But - have lived. A century is a lot. There were a lot of events and people, and not all of them took their
stories
a place. We will fix it. We will remind and tell again. While the person is remembered - the person is alive.
Tell me, dear readers from the Soviet era, especially those who are for 50 and above, can you imagine that today we would see the solemn celebration of Vladimir Semenovich Vysotsky's 80 anniversary on TV?
With solemn speeches, presentation of shine, handshake someone from the powerful of this world?
So I do not believe.
I will believe polls VTsIOM 2010 year and FOM 2011-th. More than 17 000 people were interviewed. And Vysotsky in the list "People of 20 century" took the second place. After Yuri Gagarin.
But let's be honest: Yuri Gagarin was a demigod after all. With a charming smile, who had accomplished something until that moment impossible, but beyond. And Vladimir Vysotsky is earthly and intimate.
We flew under God, near the very paradise, -
He climbed a little higher and sat there,
Well, I - reached the ground.
Probably, it is so instituted in heaven: the stars do not smoke. They burn and burn. But - shine and warm.
What is the phenomenon of Vysotsky?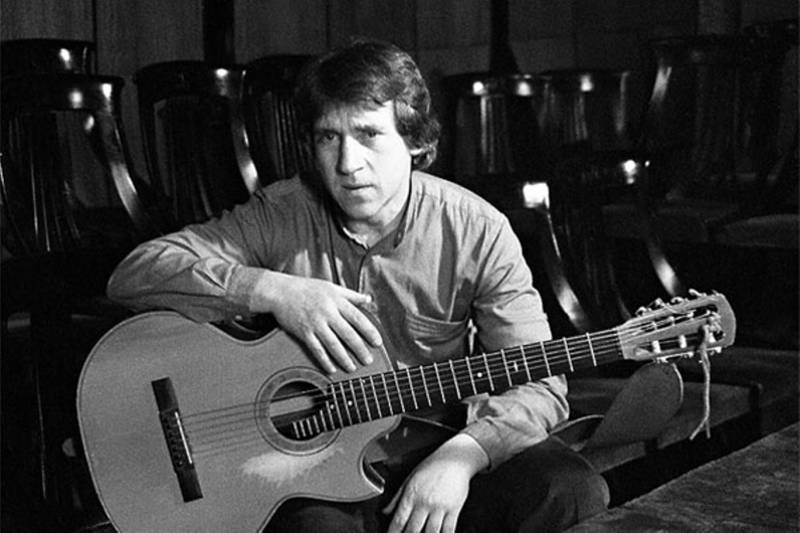 I think it was precisely that he was very earthy. Its in the board and its really for the grave. For all about whom he sang. And really sang a lot about anyone. Soldiers, athletes, sailors, climbers, doctors, prospectors, hooligans, prisoners - the list of heroes of Vysotsky's songs is quite extensive. Everyone found his own, and without exaggeration I can say that the king of reel-to-reel tape recorders was exactly a hoarse voice to the accompaniment of a guitar.
I am lit, accessible to all eyes, -
What should I expect - calm or storm?
I stood up to the microphone as to the images ...
No no! Today, for sure - to the embrasure!
(From the original version of the song "Singer at the Microphone.")
No wonder they say: the people do not cheat. I do not know, they believed someone more than Vysotsky. His popularity among the people was simply breathtaking. If he had been issued on vinyl the way Pugachev had published, another question would be who would have won. But the "samizdat" plowed Stakhanov pace.
Why all? And because the words were honest.
Yes, it is a gift from God, to be able to say so, to put words together, as Vysotsky did. No wonder each listener heard himself in the song. And he believed that the author himself experienced everything he sings about.
Evidence of this - thousands of questions that even had to answer Vysotsky himself.
"People often ask me whether I fought, swam, flew, and so on. Not. I just write in the first person, always say "I", and this is probably misleading people, they think that if I sing "I" on behalf of the driver, then I was a chauffeur.

All this is not entirely true. In all these things there is a large share of the author's conjecture, fantasy - otherwise there would be no value too - I saw it with my own eyes, took it, and rhymed it. And no dignity in this, in general, no. Of course, I have come up with a lot of things from everything I sing about you. Although some say that they know it, they know these situations, they have been to them and even the people I sing about, they know very well. I get a lot of such letters. Well, that's nice. "
Another small retreat. Why did we decide to start a new cycle with Vysotsky on the Military Review? Many will ask such a question, so it is.
Immediately and answer.
And it's in the songs again. In beautiful songs about the war, about which we talk so often. Who better to write? I do not detract from such beautiful songs as "Cranes", "Victory Day", "10 battalion", "Sorry to the infantry", "Katyusha", but ...
Each song has its own author and composer. But as many as Vysotsky, few can boast. Fact.
And thanks to Vladimir Semenovich, we flew up like ducks from muddy fields, tore flowers in the neutral zone, went out together against eight, conducted reconnaissance in battle and walked along the rear lines.
And the secret is simple. Vysotsky knew how to look and see, listen and hear. And he had many interlocutors, people who were unequivocally educated and intelligent, who were able to convey the "picture".
Speaking of the military, it is enough to remember three. Father, uncle and friend.
Junior signaling lieutenant Semyon Vladimirovich Vysotsky, father, accepted his first fight in 1941, near Moscow. And the major Vysotsky ended the war in 1945 in Prague. The colonel retired.
Order of the Red Star, Order of the Patriotic War 1 and 2 degree, medals "For the Liberation of Prague", "For the Capture of Berlin", "For the Defense of Moscow".
For the signalman, who was not particularly spoiled with awards, more than worthy.
Alexey Vladimirovich Vysotsky, uncle, went through two wars: the Soviet-Finnish and Great Patriotic War. Colonel artilleryman.
Three orders of the Red Banner, the Order of the Patriotic War 1 and 2 degrees, two orders of the Red Star. Medals: "For military merit", "For the defense of Odessa", "For the defense of Sevastopol", "For the defense of the Caucasus", "For the capture of Berlin", "For the liberation of Warsaw" and others.
Yes, by the way, if you look into the personal affairs of the Vysotsky brothers, there is "nationality" in the column ... Surprisingly, right? This is the question of "sandwiched" rewards and so on. But Alexey Vladimirovich was also published. And very well, because he knew what he was writing about.
Knowledgeable people from SMERSH put his "Mountain Flower" on the same level as the "Moment of Truth" by Bogomolov. And this, you know, is serious.
And Alexey Vysotsky introduced his nephew to the hero of his essay "The Diamond Two", Twice Hero of the Soviet Union, fighter pilot Nikolai Skomorokhov. Skomorokhova's awards are not worth mentioning here, everyone can see the list.
Nikolai Mikhailovich, being a narrator, is no worse than Alexei Vladimirovich, becoming, if not a co-author, then a muse of songs about the sky. And the author's dedication usually stands against many of them. This is "The Song of the Dead Pilot", and "We took off like ducks ..."
It is impossible in an environment of bright, intelligent and talented people not to reveal talent. And Vysotsky did not just reveal his talent, he polished the diamond to the diamond. With this, I am sure, few will argue.
The second part of the monologue already cited is devoted specifically to military songs.
"And I write about war so much, not because it is a flashback song. You know, nothing to remember, because I did not pass. We are all brought up on military material, I have a military family, there are those who died in the family - as, incidentally, every person has a war that we have touched.

This is such a great misfortune that has covered the country for four years, and it will always be remembered. And while there are still people who are engaged in writing and can write, of course, they will write about the war. But I write songs about the war, of course, not of retrospection, but of association. If you listen to them, you will see that you can sing them today, that people are from those times, the situation from those times, and, in general, the idea and the problem is ours, the present one.

That's because of this, and I appeal to those times simply because it is more interesting to take people who are in the most extreme situation, at the moment of risk, at the next second they can look into the face of death.

I find such people in such situations more often in those times. That's why I write a lot about the war. Don't be fooled by this. I believe that it is necessary to sing now, today, and continue in the future. "
There is nothing to add, except that very few people managed to write about the war. So, to get to the livers, to the gnashing of the teeth. Vysotsky could.
Yes, he called Bulat Okudzhava his teacher. Yes, Okudzhava has several simply masterpieces of a military song. "Oh, the war, what have you done mean ...", "Here the birds do not sing ...", "Forgive the infantry ..."
But this is a matter of acceptance. Some people like the quiet and unhurried performance of Okudzhava, I now prefer the fierce, on the verge of hysteria, Vysotsky style.
Behind our back at six thirty remained - I know -
Not only the fall, the sunset, but the rise and the rise.
Two wires bare, gritting my teeth, I clean.
I did not see the sunrise, but I understood: it's about to come!
And after all, these simple songs are relevant and beautiful even today. On a personal example I judge. A few years ago, when I was still working with young in a club, I played a few songs on one of the daily exits. Including "Black pea jackets".
What a surprise it was when, at the next night's gathering, I was asked to repeat the "ballad about the marines". The audience was already "made in Russia", and Vysotsky, what can I say, few people knew from the stories of their parents.
Hooked. Liked. And how could it be otherwise?
We can say that the career of Vladimir Semenovich was not entirely successful. Although the train traveled, and released abroad. There was no main thing - there were no plates (several minions do not count), there was no state recognition in the form of titles and other attributes.
But there was another. There were notices on Hamlet. There were just the plague roles of Lopakhin in "The Cherry Orchard" and Hannibal in the play "How Tsar Peter Arap Married." There were 30 films, many of them with Vysotsky songs.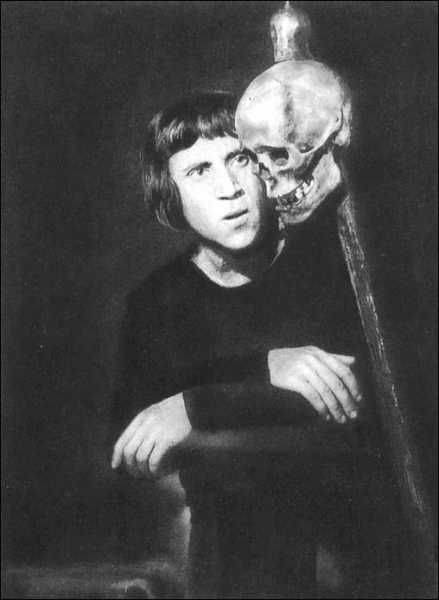 And there was the role of Gleb Zheglov in the "Meeting Place ..." One of the few cases when the negative hero as a whole became a people's favorite. And the boys of that time fought in the yards for the right to be a Zheglov in the game.
It was. And there were thousands of recordings of his 700-odd songs, distributed on dozens or even hundreds of thousands of Soviet tape recorders.
The state did not recognize the artist Vladimir Vysotsky. But the title "People's Artist" is fully applicable, because the people recognized Vladimir Semenovich as the author and performer of the songs and roles.
And this recognition will not take either time or anything else.
Vysotsky - People's Artist.
The best illustration of this was the funeral. Moscow is hosting the Olympics, the authorities are trying in every way to smooth out any incident that could have a negative impact.
But people were going. And they carried flowers. And they accompanied their Vysotsky on his last journey.
And forgive me, but according to the number of those who accompanied him, Vysotsky could argue with some of the general secretaries.
The last two lines that Vladimir Vysotsky wrote 11 June 1980 of the year:
I have something to sing, presented before the Most High,
I have something to justify before Him.
Undoubtedly. Hundreds of songs written with a soul and sung from the heart, the roles played or voiced by the soul again - will allow.
It is a pity, of course, that so little has been lived, written and played. 42 is not an age. Unfortunately.
But a crazy star fell from the sky -
Right under the heart.
It happened. How did it happen, who is to blame, and how could it be, if it were otherwise, it's too late to say, and there's no need.
He started timidly from note to
But I did not finish it, not before ...
Did not sound his chord
And no one inspired.
No! Inspired. It sounds so far. Alive songs of Vladimir Vysotsky, alive memory. 80's birthday and almost 40 years since he left us.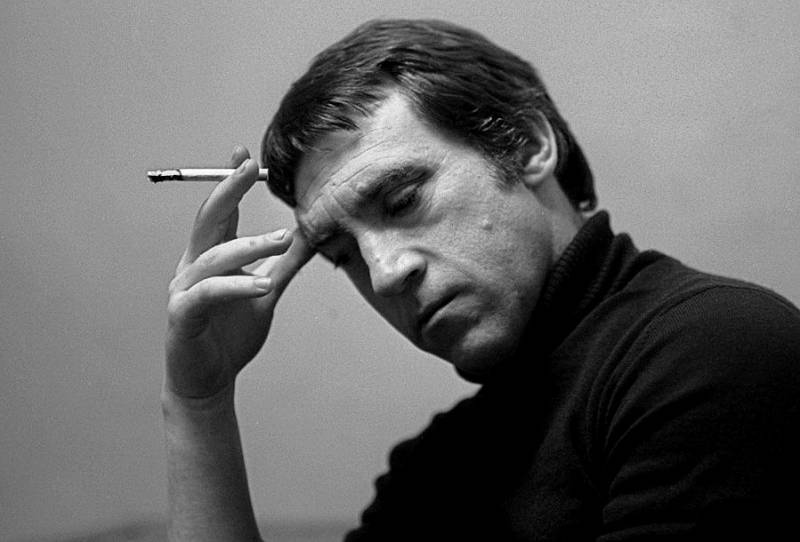 But human memory is alive.