Ukrainian media publish materials in which there are tirades of indignation of representatives of the Ukrainian delegation to the PACE. This indignation is due to the fact that completely unexpectedly for the representatives of the Ukrainian delegation from the PACE meeting room, they were asked to leave. Of all the rather extensive composition of the Ukrainian delegation in the meeting room of the Parliamentary Assembly of the Council of Europe, only one deputy of the Verkhovna Rada remained - Viktor Aryev (Petro Poroshenko's Bloc). He is the head of the PACE Committee on Culture, Science, Education and Media and, concurrently, the Vice-President of PACE. Not allowed to stay just could not ...
From the statement of the representative of the Ukrainian delegation (People's Deputy Alexei Goncharenko) (quote
page.ua
):
When the meeting began, representatives of the secretariat approached us and asked that only the head of the delegation stayed, and the others "were not invited". To our question, this is an open meeting, they said no, "we decided to close it". We will find out separately.
Goncharenko declares that the meeting is devoted to changing the rules and procedures of the assembly and can be the first step towards the restoration of Russia's participation in the work of PACE.
Recall that earlier in the PACE they demanded that Russia resume payment of contributions, to which the Russian authorities responded something like this:
"First, the restoration of the Russian delegation in the rights, then the resumption of depositing funds into the treasury of the PACE."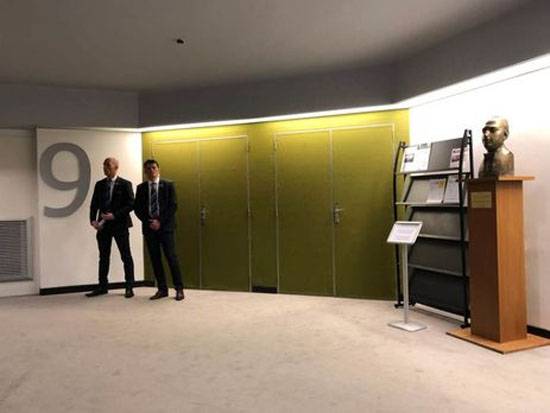 Russia at the PACE session these days is represented by Peter Tolstoy and Konstantin Kosachev.
From the statement of another member of the Ukrainian delegation (Irina Gerashchenko):
They even called extra security. Guests-Russians create a comfortable environment for debate. The concentration of the Ukrainian delegation and our large presence is uncomfortable. The Russians immediately told reporters that they were not going to comply with any Assembly resolutions. Behave arrogantly and self-confidently.
As a result, negotiations in Strasbourg are held behind closed doors. Recall that at the moment the delegation of the Russian Federation in PACE is deprived of the right to vote and cannot respond, even when one of the delegations of other countries directly to the Russian parliamentarians addresses.