The Parliamentary Assembly of the Council of Europe once again discussed "Russian interference in the affairs of Ukraine." The PACE, by a majority vote of those present at the meeting (and far from all were present), adopted a resolution that again sets conditions for the Russian Federation.
The resolution contains requirements for the Russian Federation on the "cessation of financial and military support" of the Luhansk and Donetsk people's republics. At the same time, the resolution in no way explains on what grounds Russia cannot support the residents of the Lugansk and Donetsk regions materially, given that even in the Verkhovna Rada of Ukraine, the DPR and LPR were not recognized as "terrorist organizations".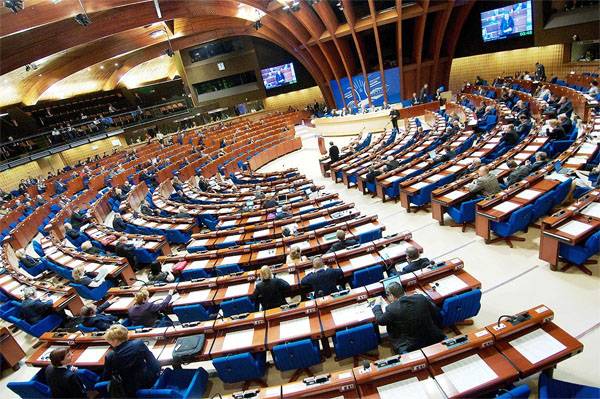 It turns out that PACE pushes itself into the corner, demanding an end to the humanitarian support of the population suffering from the Kiev aggression. In turn, this suggests that the PACE supports the actual genocide of the population of Donbass, carried out by the Kiev authorities.
The resolution also contains requirements for Russia regarding the refusal to recognize the documents of those Donbass territories that are not controlled by Kiev. Also in the resolution there are requirements for the Crimea. In particular, Russia was again demanded to restore the rights of the extremist organization "Majlis" Chubarov and Dzhemilev.
The PACE resolution was commented by State Duma Deputy Peter Tolstoy. From his statement:
The fact is that the PACE resolutions in a sufficiently large part (in any case, as far as the Russian Crimea is concerned) will never be executed. It is obvious.
Does this mean that Moscow's demands on Russia in the Donbas will be considered?