The large landing ship of project 11711 Ivan Gren, being built at the Baltic shipyard Yantar, cannot be transferred
the fleet
due to problems with reversing. Tests are suspended until the end of January, reports VPK-News.
According to a source familiar with the situation, problems with reverse remain the only serious obstacle before the delivery of the Russian Navy ship, which was planned to be held in December of 2017.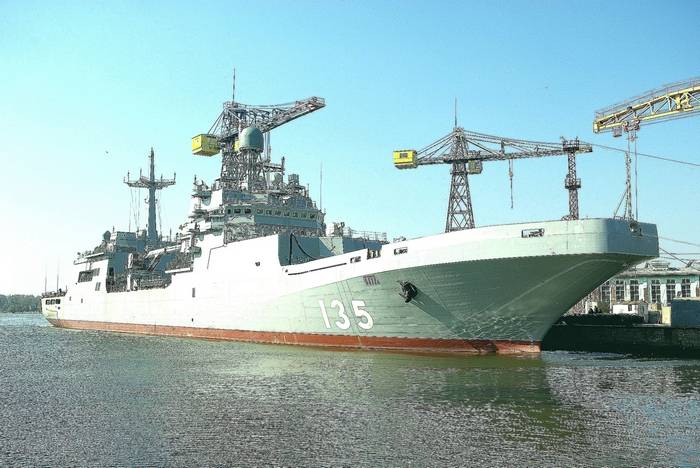 The ship could be signed in December, but the fleet covers itself from possible problems in the future. The "Gren" previously had certain problems with seaworthiness and stability, but they were solved. There is a problem with handling when reversing
- he said
However, at one of the domestic design enterprises they harshly criticized the navigable qualities of the Ivan Gren BDK and questioned the need for serial construction of ships of this project. They stressed that the ship was created to operate in the river-sea zones for the transfer of troops from different theaters of military operations, and its dimensions were initially tied to the parameters of Volgodon locks and the height of bridges.
The 11711 project was conceived as a replacement for the small, outdated 775 BDK, it was literally "blind". When the restriction for the class "river-sea" has disappeared, the BDK superstructure was increased. As a result of this and other design changes, ship stability has deteriorated significantly.
- said the shipbuilder
"Ivan Gren" - the lead ship of the project 11711, developed by Nevsky PKB. Laid at the Yantar Baltic Shipyard in December 2004 of the year, and launched only in May 2012 of the year.
The ship went to sea in the summer of 2016, then went to the factory to eliminate the identified deficiencies. The sea trials in the Baltic Ivan Gren returned in June 2017. November 30 began the cycle of state tests of the ship. 25 December last year, the press service of USC reported that "Ivan Gren" will give the Russian Navy until the end of 2017 year. 11 in January, the press service of the United Shipbuilding Corporation said that the tests of "Ivan Gren" will continue in 2018 year.