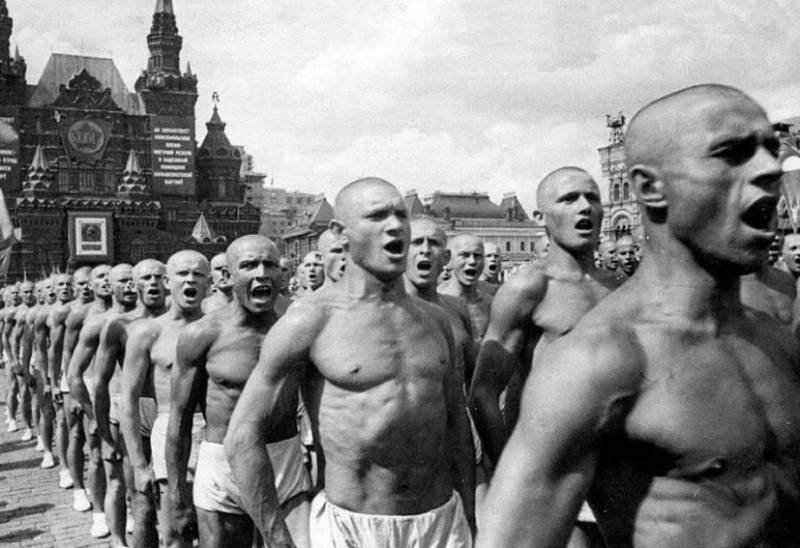 In the Soviet Union, physical education was very popular. In a healthy body, a healthy mind, such was the slogan of many Soviet citizens. The parades of sportsmen were also very popular. By its beauty, the number of spectators present, the event could be compared only with parades of military equipment. The purpose of the military parades was to demonstrate the military power of the country. Let us ask ourselves why such parades were held.
Important dates in stories motion
The first parade of athletes took place in May 1919, on the main square of Moscow. He was visited by the entire leadership of the young country, led by Lenin. Participated in the parade mainly working undergoing mandatory military training. From 1918 onwards, such training was mandatory for all males between the ages of 18 and 40.
In 1939, a sports day was established in the country by a special decree, and all parades began to be held on a holiday. Before that, they were increasingly held on days of various holidays or significant events.
The number of participants in the movement grew steadily and if in the first parade about 8 thousands of people took part, then in 1924 there were already 18 thousands, and in 1933 more than 80 thousands of participants. The best specialists of the Soviet Union were engaged in the design and organization of marches. After the victory of our people in the war against the German invaders, the parades of the athletes gained widespread popular love and mass character. However, in 1954, the last at this time march of athletes took place.
Goals for holding such parades
Of course, the main goal of such parades was to show how important a healthy lifestyle is. The beautiful muscular and flexible bodies of the participants should have caused the observers a healthy envy and desire to become just as strong and healthy people. In the Soviet Union, in particular, sports and physical education have always received increased attention. In 30 - ies of the last century, sports societies begin to emerge one after another. The TRP complex is gaining popularity.
After the end of the war, faculties of physical education are introduced in each higher education institution.
Thanks to such measures, physical education and sports in the Soviet Union acquired a special scale, which naturally had an impact on the state of the country's defense. Many owners of badges of the TRP proved to be excellent at the front and were presented for government awards. This is due not least with excellent physical training.