The further you look at some of the processes taking place in the country, the stronger the impression is that certain forces gave the order to decisively and irrevocably destroy everything connected with the USSR.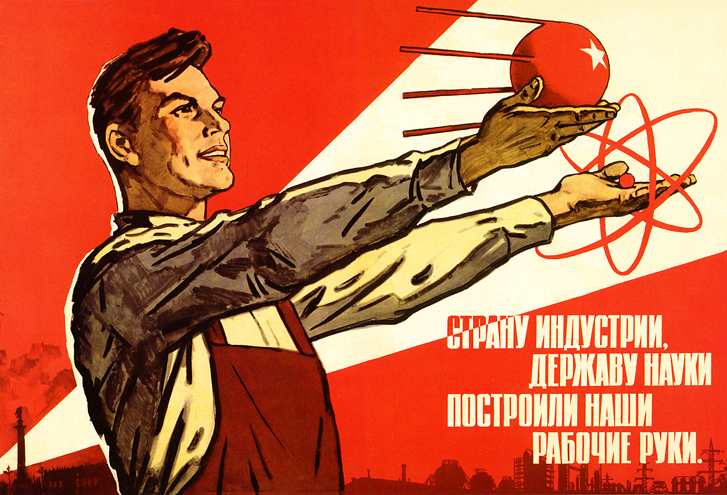 And really, why? Why do we have what we have: the destruction of the entire Soviet heritage? And to whom it is very profitable?
We talk and write about patriotism, and this patriotism simply cannot exist without the Soviet past. It cannot be said that the exploits of the ancients do not take root in our heads. However beautiful
stories
about Alexander Nevsky, Pozharsky, Minin, Suvorov, Kutuzov, kings and emperors of Russia for young people just a story. Which stupidly pass.
How stupid and how far past is a separate question, to which we will definitely return.
Another question is who needs it? Americans? Oh yeah. Here, for sure, the banjo is torn in batches, looking at the clowning, called ... Well, I will obzovuyu its obzova. Strongly similar. Somehow it turns out that according to the results of what is happening, by what we end up with, we and the Ukrainians are sailing in one direction. To one shore. Only we started earlier. Therefore, everything that the neighbors are doing today has already been experienced and hastily forgotten. Yes, and we were lucky. The Lord or Providence stopped the events at the abyss itself. On the verge of civil war.
Nevertheless, some questions are not something that you want to put next, it is difficult to distinguish where the tricolor and where two-color.
Let's go through the list?
1. Education? Hana. Apocalypse EGE parades across the country and nothing can be done about it. Who are our so-called universities? About it said so much that I do not want to repeat. We from kindergarten bring up completely different people. Elite in private expensive gardens. A workhorse - in the state. Then we divide at school and gymnasiums with a bias and at the university. And at the end of the prestige of universities as such. And the opportunity to take a "convenient" place in the company or government agencies. What is written about our universities does not apply to the prestigious MGIMO or MGU. But the university from any provincial city ...
2. The medicine? Free Soviet even conditionally - everything, and all right, some people are still able to grab something under their policy. But who will cure years through 10? See item 1. Can anyone say that medicine in the capitals and on the periphery, at least on 40-50% are equivalent? Can anyone say that the chances of survival for Russians outside of Moscow and St. Petersburg decrease significantly? Or is the salary of a doctor in the Siberian outback equal to the salary of a capital star? And every day these questions arise in an increasing number of citizens of new Russia.
In parallel with the fear of being in the future. From the point of view of the client medical facilities.
3. Industry? Heavy, medium, light ... Differently, but for the space being killed it is really insulting. We are reborn! Hooray, work plants! Excuse me, a worker who makes rockets or airplanes and gets 20000-25000 rubles - what is it like? Will the really talented engineers, designers, scientists go there? Or will they go to a private company to reinvent a bicycle, but for a triple salary?
4. Sport? Yes, I already said. Soviet quietly spinning in a coffin, looking at how "athletes from Russia" convulsively twitch for bonuses. Any "scoop" will remember how many times more at school was invited by trainers to different sections. As in a dead frost I was chasing a puck in the yard. Of course, not everyone became champions, but in the USSR it was fashionable to be strong. And each graduate had a sports category in one or several sports. Not to mention the TRP badges.
5. Culture? And then a breakthrough, and even some. Art, which is down to the level of the genitals. On both sides, I'm sorry. Art based on lies, on the betrayal of the past, on the fight against this past. We often speak of monuments defeated in Ukraine. And we have? Does art ruin these monuments? Only not those that, although they stand, are already imperceptible for a person, but those on which patriotism, love for a small homeland, courage and readiness to protect the country are based.
Basically, enough points already. But I will push off from the last one.
Someone thought seriously, and why in our pseudo-culture so? If you start to spit in the recent Soviet past, then honor you, praise and loot? But everyone can remember the touchstone, the beginning of this campaign. Pavlik Morozov! I am sure that even older people today are doubtful about the feat of this boy. Russian "smoke without fire does not happen."
And everything is simple. Here we are not talking about Stalin or Brezhnev. With them everything is already clear. And at the highest level. I will not quote our guarantor who needs it, he will find on the Internet all the phrases that he (the guarantor) gave to the USSR.
But if the president himself, the support of legality, the collector of the Russian lands and so on, said that there was nothing in the USSR except blue hens and black galoshes, so it was. Probably. The people who grew up, became stronger, won the war, rebuilt the country and ... I walked in black galoshes for blue chicken.
Interestingly, Soviet boys soldiers died in Hungary, Czechoslovakia, Angola, Mozambique, Korea, Vietnam, Afghanistan and other places for overshoes or for chicken? Then I wonder, why are they dying in Syria today? For oil and gas pipe or something else?
And here begins what I wanted to talk about.
Why can such a huge amount of production going to the brain be described as anti-Soviet?
And everything is simple. So it is necessary.
This is necessary, because in 6-10 years there should be as few heads as possible that can think. And, most importantly, willing.
I think those who have adult children, and even better grandchildren, noticed a change in the brain. They are not like us. They are sharpened on making money. Even those who do not succeed. And the worst thing is, they need the money than us. Your mobile phone, bought by 3 a year ago and perfectly working, makes them laugh. A year is the lifetime of a mobile phone. And the rest. Life from a modern person is measured by the ability to buy everything that is new and fashionable. The rest is nonsense, not worthy of attention.
There should be a herd that can consume and jump. And who does not jump, you yourself know who.
Vladimir Vladimirovich said that we are on the way to Great Russia, which means that it is so. And that Great Russia will have nothing to do with the totalitarian Soviet anti-democratic regime. But, oddly enough, the great USSR, whatever we are told today, grew out of great Russia. That Russia, in which there were not only nobles, but also simple, but heroic people. There were St. George's gentlemen, there were millionaire merchants from the peasants, there were Lomonosov, Zhukovsky, Tsiolkovsky and many others.
This is the second level. Started from the top, gradually going down. But qualitatively spoil everything that you can reach. For the main combat task is to condemn everything and everyone. I do not know if you noticed that today the topic of the Communists has almost disappeared.
20 years ago all dogs were hung on them. And today they seem to be good. Today, in the trend to spit on great scientists, great designers, great artists. It turns out not perfect they lived. Women were on the side, they drank vodka, even betrayed their comrades. Great commanders are already famous not for victories in the Great Patriotic War, but for how many trophies they took to their dacha ...
So that the overwhelming majority of those who through 6 will become an active (well, as far as possible) electorate, have one gyrus in their head. And she led in the right direction.
And all these reflections on how everything was in the USSR is harmful and interferes.
By the way, here really thanks for not having 37 in the yard. In those days, dissent really sucks ended.
So we still podyhtym, yes. But - not very effective and not very long. Firstly, because sooner or later die out (we look at items about medicine, increased retirement age and other pleasures such as excises), and secondly, going into the category of old fart, which no one will listen to, we will not hear anything.
Nevertheless, this problem before the leading people to Great Russia stands oh as relevant. We are alive. Both fathers and grandfathers are tenacious. How many years have passed since the end of the war, and veterans are still alive. Little, but alive. And the Afghans are alive. Not to mention the young participants of the Caucasian Wars. And we can rise, as shown by the events in the Donbas. To rise without a command from above, without agitation, without beautiful words. Go and win or die for the idea.
True, but why all these evil feelings? Why stories about how it was not so bad to live in the Union? In the furnace. At the dustbin of history through discredit. And no one will listen to the "scoops". And uninteresting, and no meaning. Nothing like? Have you heard these words recently from your son, grandson, nephew? By the way, we noticed, we are no longer offended by the "scoop". It is like an honorary title. Strange, but this is a fact.
A fact that is worth noting, but which should not be offended.
After all, ahead is the Shining Path to Great Russia.
The herd will go. Calmly and strumming bells. And vigorous shouts of "Ye-geeeee!" And for the shepherds do not worry, yes. Shepherds will prepare. In Cambridge, Oxford, Princeton and HSE. It's all clear.
The herd is successfully raised.