Profile Edition
Aviation Week
reports on the increasing incidence of deterioration of health of pilots of attack aircraft A-10 Thunderbolt II of the USAF. Recall that we are talking about attack aircraft, the production of which in the United States was carried out in the period from 1975 to 1984 years. During this time, more than 700 of such twin-engined aircraft were produced.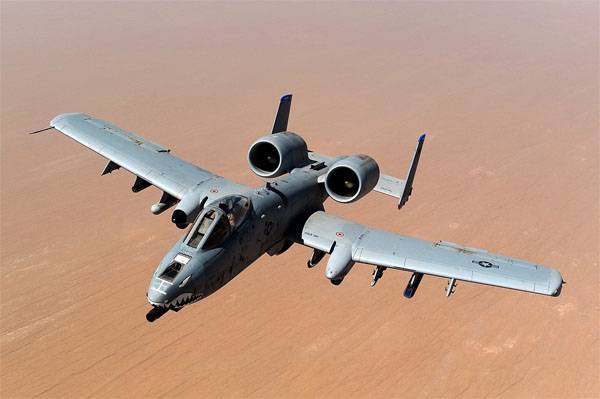 In the American media reports appeared that pilots often began to complain of hypoxia episodes, manifested during flight operations. In particular, several incidents were reported in the Davis Mountain Air Base area in Arizona. After that, an assumption appeared that the liquid oxygen supply system LOX (oxygen stations OBOGS) operated on attack aircraft with malfunctions.
The pressure in the cockpit of the attack aircraft during flights dropped below the permissible parameters, and it was not possible to identify the specific causes of such problems at the moment. This fact was the reason for the decision to suspend the implementation of flights on the A-10 Thunderbolt II. At the moment it is known that about thirty American attack aircraft of the mentioned airbase remain on the ground before the completion of the work of the commission of specialists.
For reference: A-10 Thunderbolt II weighs about 9,2 T (empty), while the maximum take-off weight is over 21 T. The maximum allowable speed of the aircraft is about 830 km / h. Practical range with maximum combat load is 740 km. The length of the takeoff of the aircraft - 1,1 km, the length of the run - 623 m.