The Kazan Helicopter Plant (KVZ) launched into serial production five medium multipurpose Mi-38 in both military and civilian versions, Interfax reports, citing a source in the aviation industry.
Currently, the launch of the production at the KVZ (part of the Russian Helicopters holding of the Rostec State Corporation) contains five Mi-38 helicopters in versions designed both for the Russian Ministry of Defense and in civil equipment
- informs edition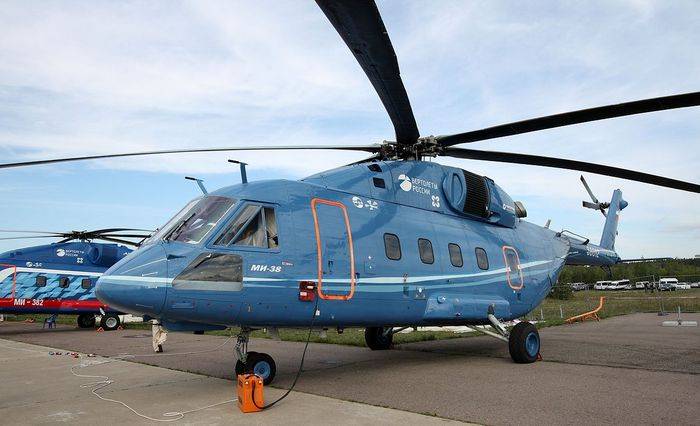 Both military and civilian versions of the Mi-38 are built according to the technical documentation with a serial model letter - it is the same for all variants.
However, for the military version of the Mi-38T there are additions to the documentation on the equipment of the helicopter, which must pass state tests and also get a serial sample letter - noted in the material
To date, four prototypes of the Mi-38, undergoing certification testing, have been built.
Earlier it was reported that the first customer of the new medium-heavy helicopter Mi-38 was the Russian Defense Ministry. In August, the press service of Russian Helicopters, 2017, reported that the Kazan Helicopter Plant had begun assembling the first prototype Mi-38T for the military department. The transfer of two vehicles to the military department should take place in 2018 and 2019. According to Deputy Defense Minister Yury Borisov, the ministry plans to purchase about 15 Mi-38 helicopters up to 2020.
The average multipurpose Mi-38, developed by the Moscow Mil Helicopter Plant, occupies a niche between the Mi-8 and the heavy Mi-26. It can be used for the transport of goods and passengers, including in the performance of VIP, used as a search and rescue helicopter and a flying hospital, as well as for flights over the water surface.
Also developed a military version of the helicopter - Mi-38T, which differs from the base in a number of parameters and equipment. Including, on a military helicopter, it is planned to install a fuel system with explosion protection, additional fuel tanks to increase the flight range, special communications equipment and equipment for use by crew members of marine rescue suits.