The first nuclear submarine of Indian construction S 73 Arihant is in serious and long-term repair after a major accident, reports
bmpd
With reference to the newspaper The Hindu.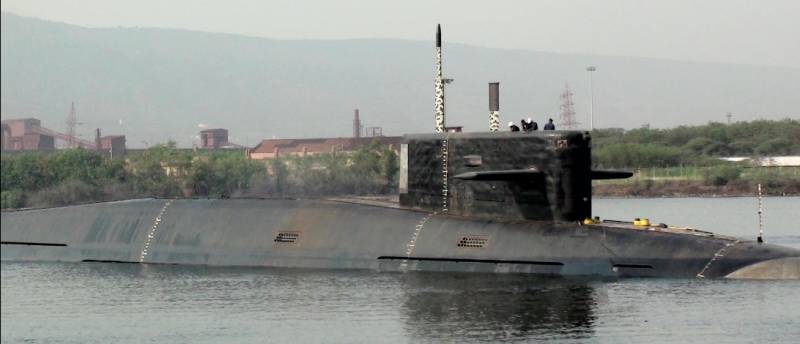 According to a newspaper referring to a naval source, the accident occurred "more than ten months ago" (approximately, in February, 2017) and is still hiding from the Indian public.
It was from February last year that Arihant did not go to sea and "will be repaired for months," said the source.
According to the report, the accident occurred at the Arihant parking lot in Visakhapatnam (apparently, at a special state shipyard SBC, where the submarine was built and is based on the testing period).
According to the interlocutor, "the compartment of the power plant of the boat was flooded as a result of an erroneous open hole in the stern of the ship opened by mistake. Now the boat will have a long repair with the replacement of a significant part of pipelines and valves.
The Indian Ministry of Defense declined to comment.
Sources claim that Arihant "from the very beginning had serious technical problems," in particular, "a significant set of problems associated with the mismatch of the level of construction work at an Indian enterprise to a Russian project," and he "did not find a satisfactory resolution."
Bmpd comment: "The national program for the development and construction of Indian nuclear submarines Advanced Technology Vessel (ATV) has a long and painful
history
. In fact, the program has been implemented since 1974, and since the beginning of 1980, it has been implemented with active Soviet and then Russian technical assistance.
The head Indian submarine S 73 Arihant (symbol S2) was launched on SBC in 1998 and launched on July 26 on 2009. The physical launch of the nuclear reactor on the boat was performed on 10 August 2013. The boat entered the factory trials 15 December 2014 of the year. In August, the submarine 2016 was transferred to the Indian Navy without publicity, although it actually remained in the testing phase. Foreign and Indian sources are really silent about any Arihant exits at sea in 2017, and there has been no news of the boat for almost a year. "