The excess of the number of those arrested over the number of places in the Moscow SIZOs is largely due to the large number of foreign citizens there, reports
TASS
a message from the head of the FSIN department in Moscow, Major General Sergei Moroz.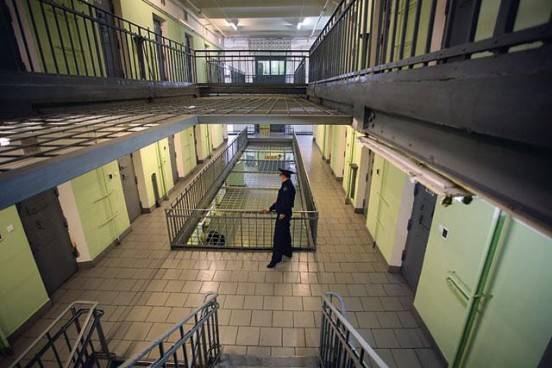 As of the end of December 2017, there were 10375 people in the pretrial detention facilities in Moscow, which exceeds the established filling limit (19,85 places) by 8657%. A year ago, the overwhelming rate was 22% (11,5 thousand people), and in the spring of 2016, it reached 30%,
said frost.
According to him, "the problem was partially solved thanks to the interaction with the prosecutor's office and the courts - UFSIN regularly monitored the number of detainees, informing the courts and the prosecutor's office about prisoners with whom investigative actions were not conducted for a long time."
The situation in the capital's detention centers is largely affected by the presence of a large number of foreigners there.
Monthly, foreign nationals make up 25,4% of the total number of suspects, accused and convicted (detained). At the end of December there were 2513 foreigners,
reported frost.
For example, in "Butyrka" - one of the largest metropolitan SIZOs - the share of foreigners is up to 30% (almost 700 people at the end of December).
The head of the department also added that in Moscow in 2017 more than two thousand people were under house arrest, which is comparable to the number of people detained in a large Moscow prison.
According to the registrations of criminal-executive inspections of the Federal Penitentiary Service in Moscow for 2017, a year passed 2131 of the accused (suspects) with a preventive measure in the form of house arrest. This is 16% more than in the 2016 year (then there were 1794 people),
he said.
Moroz said that "with regard to 222, suspects and accused employees of the penitentiary inspections sent notifications to the investigating authorities and the courts about violations (conditions of house arrest) allowed by the accused and suspects to decide on the change of the preventive measure to be taken into custody."
As a rule, the courts apply additional restrictions, and only in relation to 22 a person for a year house arrest was replaced by a detention center. At the same time, 17 people (0,8%) managed to escape from house arrest.
The capital accounts for up to a third of house arrests in Russia. In 2016, the courts granted six thousand petitions for house arrest throughout the country, in the first half of 2017 of the year - 3,1 thousand.
In the Leningrad Region (including Petersburg), house arrest was administered 2016 times in 381 in the year, 2017 times in 555 in the year.
According to UFSIN in Moscow, in 2017, 2263 people were set free from the capital's detention centers. Of these, 910 - after the conviction (after the expiration of the sentence imposed, to which the term of detention was taken into account), or received a sentence not related to imprisonment, including a fine. The rest was changed preventive measure.