Special Forces soldiers received an "optics direction finder". The product "Sprut-3" is capable of day and night, in any weather, using a single glare at a distance of several kilometers, to "see" binoculars, a telescopic sight, or a complex optical-electronic object. All detected targets are recorded and automatically plotted on an electronic map. In real-time information is transmitted to the headquarters.
The new system has already passed preliminary tests and is recommended for acceptance for equipping parts and divisions of special purpose. "Sprut-3" was developed and produced by the Scientific and Production Center for Anti-Terrorism and Forensic Technology "SPEKTR-AT". The company explained that the product will detect optical and electron-optical means of observing and aiming the enemy up to five kilometers away.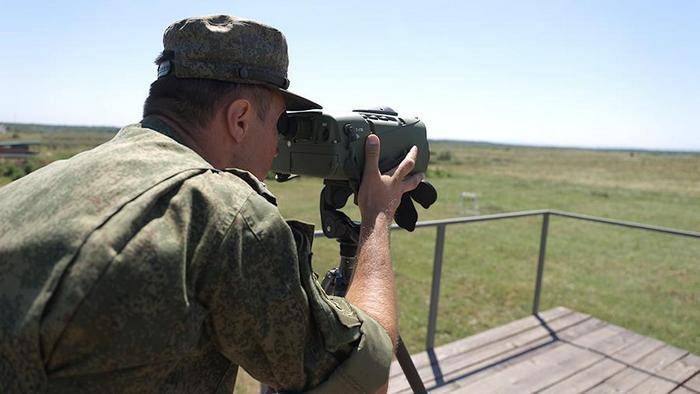 We "trained" the system to find all modern sights, binoculars, night vision devices and even range finders. "Sprut" is able to simultaneously detect and analyze dozens of goals. All information from advanced intelligence officers is transmitted to the command post, which may be in the rear. This is a device for group use. If you apply one or more "Spruts" special forces in real time will get visual information about the most dangerous targets. The Scout Device will be especially useful for groups that search, reconnoiter or free hostages
- said CEO Alexey Kovalev.
Externally, the Octopus Octopus resembles large binoculars. "Sprut-3" fixes the position of detected targets in automatic mode. The device calculates the distance to the target and its coordinates. The auxiliary part of the device is a Russian-designed tablet. "Military iPad" works in two modes - black and white and color. His memory contains electronic cards with high details. On them "Sprut" marks the detected objects.
The mass of the product - from one and a half to two kilograms, depending on the configuration. The body of impact-resistant plastic protects equipment from external influences, including sea water. The system operates at temperatures ranging from minus 20 to plus 50 degrees.
Now only two countries - the USA and France - have mastered the production of "optics direction finders". The most expensive are the products of the American company L-3 Warrior Systems. More low budget releases French company Sagem. The United States strictly limits the sale of such systems, they are supplied only to nearby allies. Users do not have the right not only to transfer products to third countries, but even to open them, reports Izvestia.