Militants of several terrorist groups have intensified in the metropolitan province of Syria (Damascus), in Lattakia, Hama and Idlib. As a result of a successful operation, detachments of special forces of the Syrian government army managed to eliminate several field commanders in the suburb of Damascus Eastern Guta.
Against this background, there are reports from Syria that, over the recent period, the SAR authorities have been trying to negotiate with the militants "entrenched" in the province of Damascus. Negotiations were aimed at the possibility of ending the hostilities and the withdrawal of gang members from densely populated areas with a guarantee of life preservation. During the talks, as the Syrian journalist Riyad Farid Hijab notes, it became clear that foreign military instructors were behind the field commanders in the province of Damascus, who took all measures against the agreement with the official authorities. As a result, the Syrian special forces conducted several preventive attacks against the leaders of terrorist groups, patronized by foreign intelligence agencies.
Several photos of Syrian special forces over liquidated terrorists published in the microblogging
Ivan Sidorenko
on Twitter.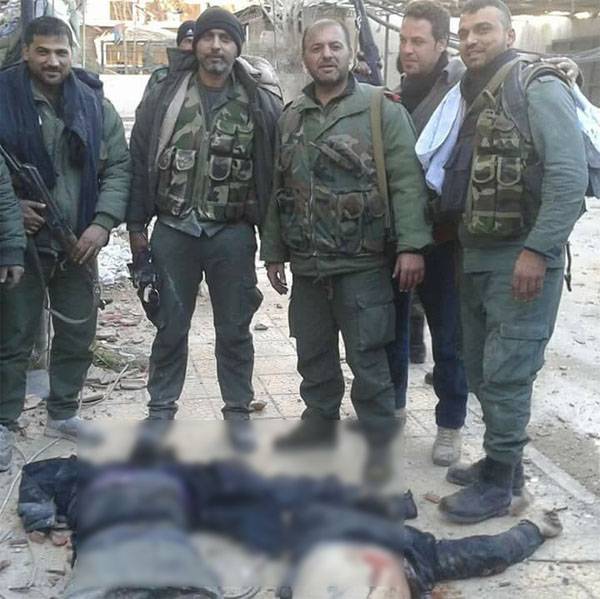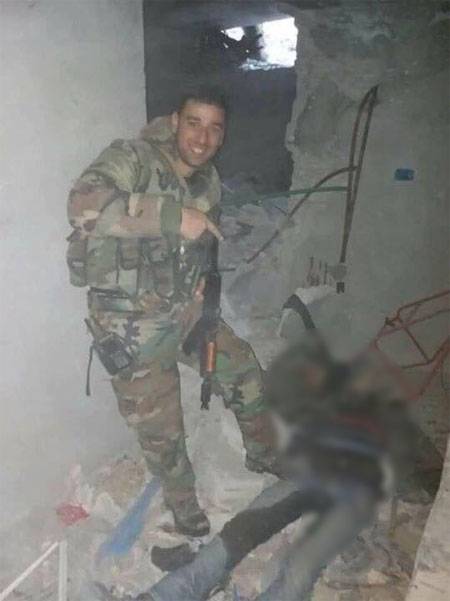 From the story of the interlocutor Riyadh Farid Hijab:
The battle of Harasta (Eastern Guta) was one of the most violent. I do not remember what the militants would have fought so fiercely for every square meter. We managed to capture only one prisoner, all the rest were shot to the last bullet.
Recall that on January 4 in the media there were reports of mortar shelling of the Russian Khmeimim airbase. The network has published several photos, in the comments to which it was stated that the mortar fire allegedly destroyed several aircraft of the Russian Aerospace Forces. One of the photos published in the above
microblogging
Twitter: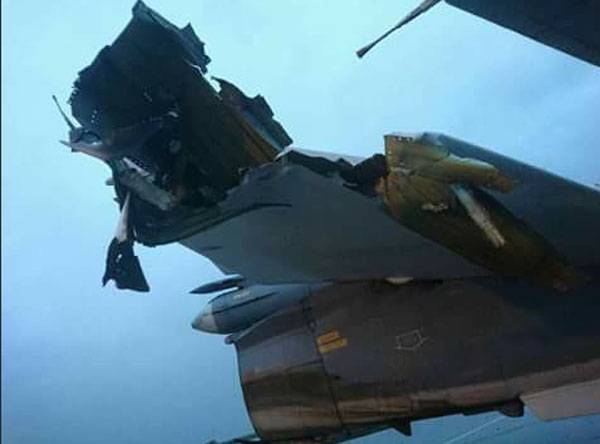 The Ministry of Defense, we note, stated that information about the destruction of seven aircraft in Hmeymim - fake.
The Syrian media say that the militant military activity in several provinces has not been without active support from foreign countries, who decided to go all in against the official authorities of the SAR and the Russian presence in the country.