Ukraine, following the results of 2017, has increased gas imports from Europe by 26,8% to 14,1 billion cubic meters, while the country has been without Russian fossil fuels for the third winter, reports
RIA News
message of the press service of "Ukrtransgaz".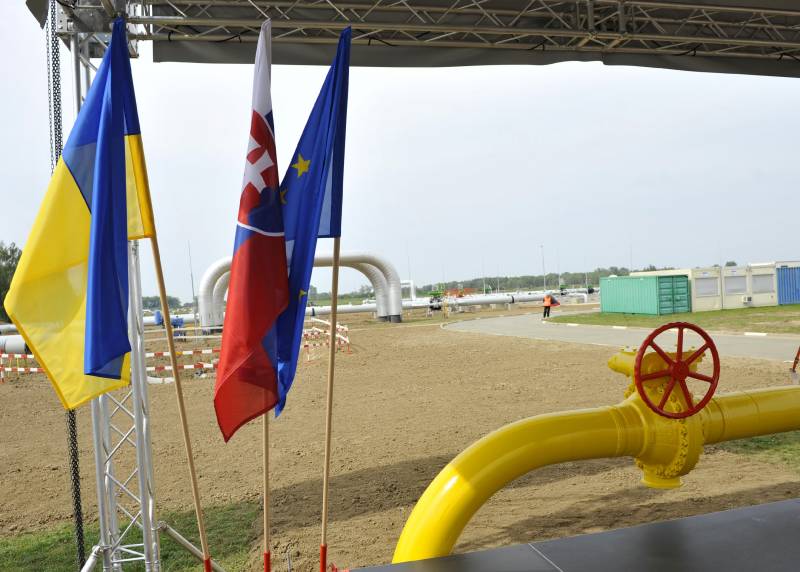 Already for 768 days (third winter), Ukraine does not import gas for its needs from the Russian Federation. During this period, including the 2017 year, gas volumes came exclusively from EU countries. Total this year (2017 year) from Slovak, Hungarian and Polish directions transported 14,1 billion cubic meters, which is 26,8% more than last year and is a record value for the whole
history
functioning of the Ukrainian GTS,
says release.
Ukraine stopped buying gas from Russia in November of 2015, and in 2016-2017 did not use Russian fuel in preparation for the heating season.
It is noted that "the flow of natural gas to the gas transportation system from the Ukrainian gas production enterprises increased to 20,8 billion cubic meters, and compared to the 12 month 2016, production in Ukraine increased by 620 million cubic meters or 3,1%."
According to the report, Ukraine entered the 2018 year "with the largest, compared to the beginning of the last five years, gas reserves in underground storage facilities - 14,7 billion cubic meters."
Thus, Ukrtransgaz pumped into underground storage facilities of 9,2 billion cubic meters of gas suppliers and producers of blue fuel, which is 43,2% more than in 2016 year. "In January-December, 2017 of the Ukrainian UGS selected 6,4 billion cubic meters, which is 23,2% less than in the 2016 year," the press service explained.
According to the company, "Ukrainian consumers of all categories were transported by the 28,4 gas pipeline with a billion cubic meters of gas, which is 14,9% less than in the 2016 year." It is noted that "the indicator of gas consumption by Ukraine is specified without taking into account the volume of gas for production and technological needs of Ukrtrangaz, the regional gas industry and the producing enterprises."
The company also said that gas transit volumes across Ukraine reached a record level over the past eight years: "In general, 93,5 billion cubic meters of natural gas for European consumers were transacted through the Ukrainian gas transport system for the reporting year, which is 13,7% higher than the same year's 2016.
The press service added that the branch of the company, the Operator of the Ukrainian GTS, promptly and fully fulfills requests for transportation of blue fuel.