The mine defense ship of the new generation for the Russian Navy "Yakov Balyaev" was laid on Tuesday at the Middle Nevsky Shipbuilding Plant (part of the United Shipbuilding Corporation)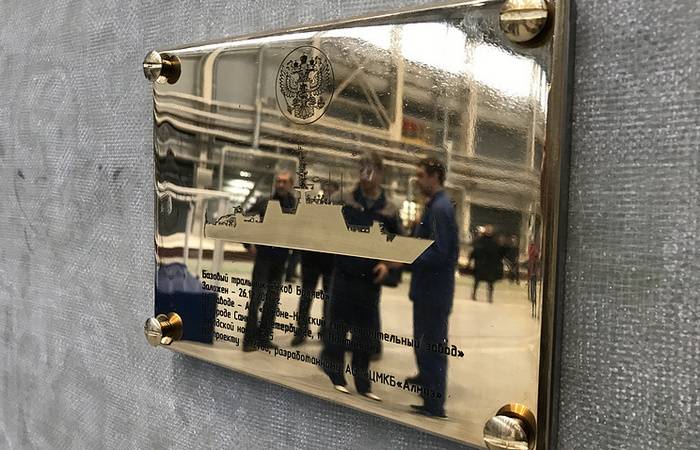 Sea minesweeper "Yakov Balyaev" - the fourth serial (fifth in a row) ship, which is laid on the stocks of the plant. The laying ceremony was held in the new workshop, opened in April 2017 as part of the general modernization of the enterprise. During the ceremony, a plate with the name of the ship and its bookmark date was attached to a special mortgage section. The ship under construction was named after the sailor, gunner of the 355th Pacific Separate Marine Battalion
fleet
Yakov Illarionovich Balyaev.
The lead ship of the 12700 project, Alexander Obukhov, already performs tasks as part of the Russian Navy, the next three ships (Georgy Kurbatov, Ivan Antonov, and Vladimir Yemelyanov) are at different stages of construction.
The minesweepers Alexandrite of the 12700 project are designed by the Almaz Central Metallurgical Bureau. They are able to use the latest hydroacoustic stations, located both on the ship itself and on remote-controlled and autonomous underwater vehicles, have an automated control system for mine action. They can also use traditional trawl weapons. The ships of the Alexandrite series have the world's largest monolithic fiberglass hull, formed by vacuum infusion.