An operation was conducted in Azerbaijan to detain the former Minister of Defense Rahim Gaziyev. Reports about it
"Voice of America"
with reference to the relatives of the ex-minister. It is alleged that, for the time being, 74-year-old Gaziyev is being held in custody in the detention center of the 17 police station of the Narimanov district. The reasons for the detention of the former state official of Azerbaijan are not reported.
Ragim Gaziev headed the Ministry of Defense of Azerbaijan in the period of the formation of Azerbaijani independence: 1992-1993 years. In 1990, he was an active participant in anti-Soviet speeches in Baku. In the summer of 1990, Gaziev was arrested and sent to Moscow, where he spent several days in a Lefortovo prison. After he was released from custody in connection with his election in the Azerbaijan SSR to the local council of deputies. The criminal case against him was then closed.
In March, 1992, Acting President of the Republic, Yakub Mamedov Gaziev was appointed Minister of Defense of Azerbaijan. At the same time, Gaziev did not have a higher military education. The main argument for the appointment was the fact that in 1988, he was one of the first members of the so-called Popular Front of Azerbaijan, distinguished by radical nationalism. The lack of military experience of the Minister of Defense led to a series of defeats for Azerbaijani troops in Nagorno-Karabakh.
After Gaziev's resignation in 1993, he was again arrested, accused of surrendering Shusha and high treason. In 1994, he fled to Russia. And in Baku, the court in absentia sentenced Gaziev to the highest measure.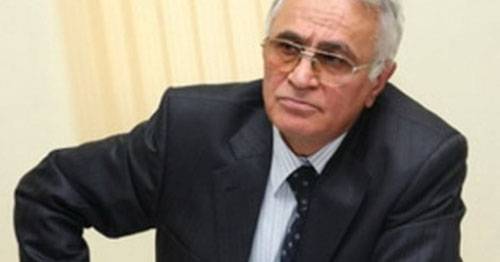 Two years after Gaziev's flight to Moscow, the GP of the Russian Federation adopted a decision on his extradition. In Azerbaijan, the death sentence against the ex-minister was replaced with life imprisonment. In March 2005, Gaziyev was released again - after pardon, under pressure from European human rights defenders and PACE.
It is not known whether Rahim Gaziyev was detained in the same criminal case or the reason lies in his other sins against Azerbaijan.