The National Guard of Ukraine received a Mi-2MSB helicopter that was repaired and modernized at the Motor Sich enterprise.
The commander of the National Guard, Colonel-General Yuri Allerov, and the president of Motor Sich, Vyacheslav Boguslayev, arrived at the transfer of equipment. They met with journalists in the flight test complex and conducted the first test flight. All those present had the opportunity to inspect the repaired Mi-2MSB with the Zaporozhye AI-450 engine.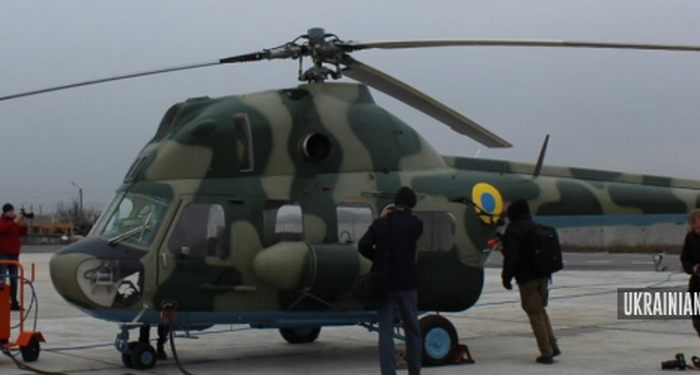 The National Guard is an elite unit that performs the most important tasks. Today is a big event. In this helicopter, only the old wheels, the rest - everything is new. The warranty on it - 8 years. Our product is three times cheaper than foreign helicopters: both in price and cost of spare parts and maintenance
- - Vyacheslav Boguslaev told reporters,
Mi-2MSB - modernization of the proven Mi-2 helicopter with the installation of AI-450В engines. According to the manufacturers, the advantages of the upgraded technology are lower fuel consumption and increased range by 30%, an increase in the payload by 20%, an increase in the maximum flight ceiling by 15%, a twofold increase in engine overhaul time.
V. Boguslaev also said that at the moment there are "taking into account the destroyed DOSAAF" about 200 helicopters in Ukraine, of which 70 are in good condition, therefore Motor Sich intends to continue upgrading the helicopters.