The announcement of the final decision of the Zamoskvoretsky Court of the Russian capital on the case of Alexey Ulyukayev, the former Minister of Economic Development of Russia, began. The court found the ex-minister of the Russian government guilty of accepting a bribe on a large scale. Recall that the prosecution (as reported by the court) provided the court with evidence of Ulyukayev receiving a bribe in the amount of 2 million dollars.
Judge of the Zamoskvoretsky court Larisa Semenova (quote
RIA News
):
Minister Ulyukaev was personally responsible for the performance of the assigned functions. Ulyukayev is guilty of being a bribe as an official.
Further, the judge stated that Ulyukaev demanded a bribe from Sechin intentionally, "guided by mercenary motives."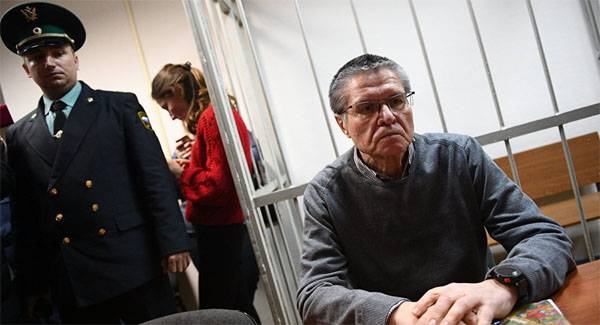 Recall that a few minutes before the start of the trial, Alexei Ulyukayev stated that he considered the only verdict to be fair to him. As you can see, the court did not acquit the verdict. At the same time, the defense announced its readiness to appeal the verdict even before its final pronouncement.
The final sentence against the ex-minister Ulyukaev is eight years in a penal colony. In addition, Ulyukaev will pay a fine in the amount of a bribe - 130 million rubles. After his release (in 8 years minus the term of house arrest), he will be deprived of the right to occupy state positions for the same period.