Kommersant:
How do you go to this election? - From myself, from the party, from public organizations. They say that there are differences, who will be the head of the campaign headquarters?
Putin:
It will be self-nomination.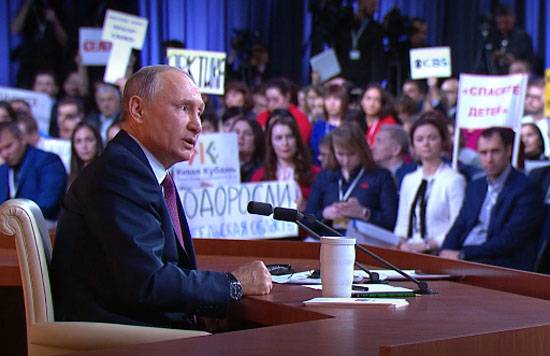 The question was asked to Putin about why, in order to solve the problems of ordinary citizens, they need to get through to the president - an example was given of the case of a cancer patient who was only publicized after her contact was made within the Direct Line.
The president:
The myth of manual control is greatly exaggerated. And what array passes through the government? Huge. This I tell you also as a person who 4,5 of the year was chairman of the government. It is impossible to directly understand all the problems. But that's why we draw direct lines, so people can directly communicate with state leaders. After the last straight line, I constantly go out on the governors, put on my desk a folder with questions and problems of people. And then control is turned on. Many call such a press conference a formality, but it is not.
"Russian newspaper":
How does our economy grow? Are they just numbers or have we really begun to produce more tractors and machine tools?
Putin:
GDP growth is now 1,6%, a serious increase in the automotive industry, agriculture. We have a record crop growth - more than 130 million tons. In the RSFSR was a record 127 million tons. We reached the 1-place in the world in terms of grain exports. The growth is based on overcoming two shocks: a sharp drop in energy prices, sanctions are overcome. They, of course, influenced us. Our development began to rely on domestic demand. We have an investment in fixed assets - 4,2%. This is a serious investment in development. We have foreign direct investment of about 23 billion dollars. This is the best figure for 4 of the year. We have 2,5% inflation - a record for minimum inflation. We have a low budget deficit.
Then Putin answered the question of the Rossiya24 journalist about the pressure of government officials and individual security officials on business.
Stas Natanzon:
Perhaps such officials and security officials are traitors, the fifth column?
Putin laughed off, saying that journalists love to sharpen, calling someone a traitor. The president also said that the actual lack of control of the Central Bank by the law enforcement agencies does not mean that there are no checks.
Putin:
Control over the CBR is exercised. But no serious violations in the Central Bank have been identified.