When I studied at the institute on the school teacher
stories
and English, since it was a Soviet university and Soviet time, nobody told us about Pareto's law, and I somehow did not think about the fact that most people on Earth are not sufficiently educated, educated, socialized, provided with leisure and means for appropriate education. Someone was the victim of a drunken conception (in France, such children are called "Sunday children", so many of them!), Someone was dropped their head, someone, on the contrary, smoked their mother, and someone was born near a chemical plant or village on the banks of the river Techa. All this ultimately led (and leads!) To the fact that people, speaking everyday, just these very ... and there is. Although often not in all and not completely, but only partially.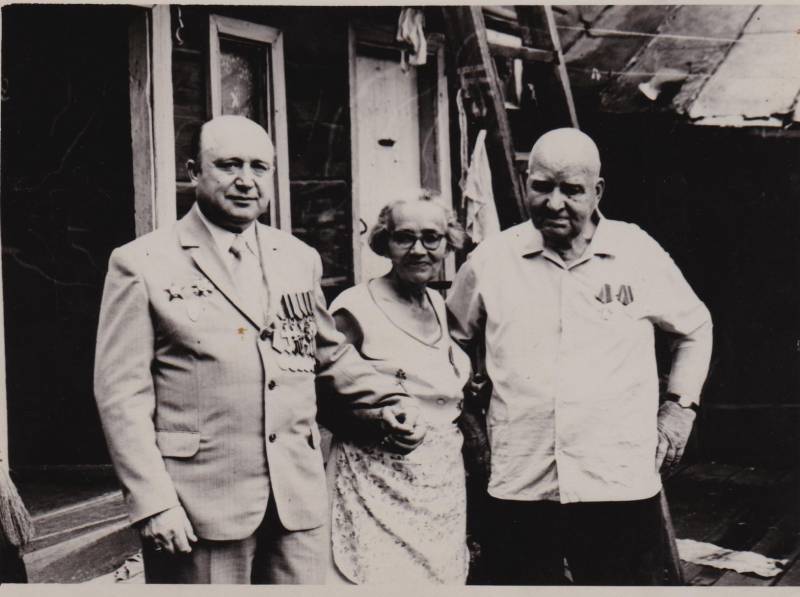 I wanted to put my children's photos in these articles: comrades with snot from the nose, in dirty t-shirts and shorts against fences and toilets, himself trimmed to zero in satin bloomers and in Vietnamese sneakers, his drawings of the old house and the interior of his large room. Found something. But a lot of things have been removed somewhere according to the principle "put it away, take a closer look". So they put it in such a way that they themselves forgot where. But this photo was found. My grandfather is on his left just in 1972, my grandmother is next, younger than him on 17 years (he married her in 34 years!) And my adoptive father, Peter Shpakovsky, holder of 4's highest Polish orders and two of ours. The most interesting thing, however, are those "ruins" that are visible behind them - the house of my great-grandfather, built in 1882. And the stairs to the roof, on which my grandfather once "lashed out" with a rake, swinging at his sister, the ex-wife of the colonel of the tsarist army, with whom she was in the Crimea with Baron Wrangel. "Oh, the White Guard b ..." he shouted at her, during some kind of rugachka I witnessed, "I will kill you!" And she to him, jerking his robe on his chest: "Beat, flattering bastard!" something rake and enough. This is how families, in general, even educated people, went through revolution and civil war, and they didn't forget their enmity even after years!
That is, someone at all, and some not. And this is the worst of all. Outwardly, they are not similar to the downs, and it can be found out that they are not smart enough only in the process of communication. Well, and if you are young and you were taught to respect people who are older than you? Not all young people can figure out in time that people get the right to respect not for their age, but what they have done over the years, and that the old fool is much worse than the young!
In this regard, to my great regret, in my life I was not very lucky with the environment, except perhaps with only my foster father. All that I have achieved was not due to someone, but in spite of. And often people, let's say, "not very", turned out to be people quite close to me or just those who were considered very intelligent and respected in society.
My grandfather seemed to love me, but ... had a habit of smoking after dinner, and he smoked a self-garden, wrapped in a goat leg. And I used to sit across from him at the table and inhale this fragrant smoke. That is, from early childhood was engaged in passive smoking. Didn't he know that it was harmful? I did not know, most likely. So this is not stupidity, but ignorance? But what a fool, what an ignoramus, but the result is one for society, isn't it? As a result, I did not eat beets, and a lot of other things needed to eat, which was just what was needed for a children's growing organism. But - the child inhalation of tobacco smoke leads to intolerance to a number of products. This I later found out. True, there is no evil without good. In 70, my grandfather made a mistake so that the doctor said: "If you don't quit, you will die in two years!" And my grandfather quit smoking and lived another 16 years later, never having touched tobacco after 50 years of smoking. So I clearly saw that a person with a strong will is capable of much. It was a great lesson for life.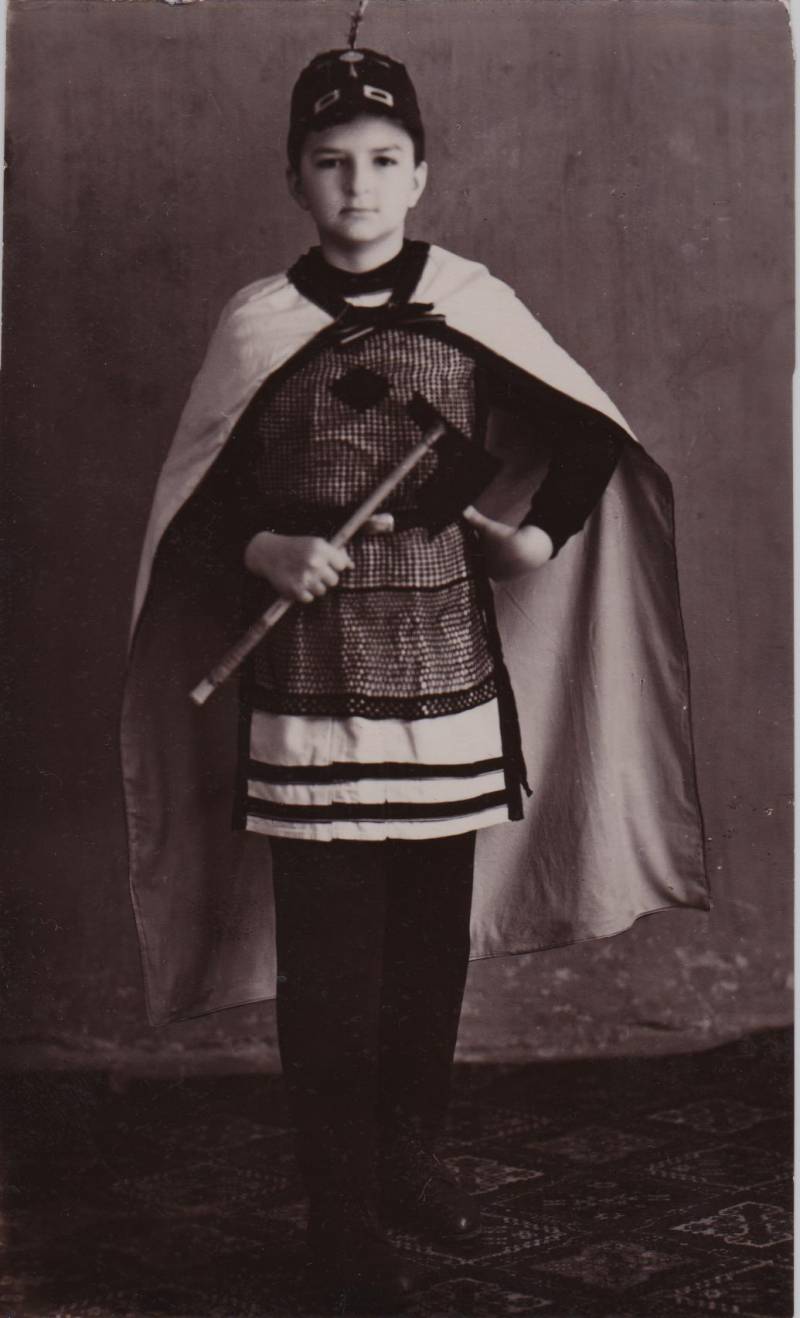 One of the few photos proving that everything in life is predetermined. As a child, I literally raved about knights. He drew them, cut pictures with them from textbooks, and such books as Jack Straw and Ivanhoe knew almost by heart. I made myself a knightly suit and armor: a shield, an ax, a helmet. I forced my grandmother to tie a chain mail, sew a raincoat - white on top, but with a red underlay like that of Pontius Pilate. He adored the opera film "Iolanta" ... As if he knew that "knights are my destiny," and I myself will write thick books about them!
My teacher (although in theory it is necessary to speak with aspiration - "my first teacher"!) Of primary classes was definitely a fool. "Children, the nuclear-powered ship" Lenin "was built of large oaks, and an iron bar in front of him cut the ice!" She said this in 1962, when I was studying in her first class and already read "Young Technician". Well, I told her about her mistake with all. After that, I was told that ... "the tree is floating, and the iron is sinking." It is clear that the whole class (those we still had "little children"!) Supported her, not me. Then, in response, I told them about the Archimedes law, brought a tin can with nuts to the class and let it float in a puddle. I stopped being an excellent student at the end of the year ...
Went to a model airplane club. Some guy was leading him. Gave us all to make a glider model from the DOSAAF kit-package. He ordered ribs cut. And plywood ... overdried non-standard! Well, I ribs all and ruined. And I'm not alone. They left only two guys. And there are no new sets. Still free. So I went the rest of the time looking at these lucky ones and licked at how they assemble the glider, and then launch it. Now I understand that this guy was just an illiterate fool. Because if it were otherwise, he would have shown that plywood ribs can be replaced by ... paper from T-shaped drawing paper. But, alas, he did not know that.
In the ship modeling circle, a man gave me a hunter boat for 40 for years. Also DOSAAF product. The body is good. Superstructures of pine bars, layered and caustic. How to turn them into felling and towers with one knife and file, and remove all rough edges? Work for a Roman slave, not a fifth grade student. It is clear that nothing came of this hard labor. But if he hadn't been a cretin, he would have explained to the children that all the same can be easily and easily made from Bristol cardboard and greeting cards on patterns. You could give them to us yourself and transfer it with a needle to this cardboard, because he was. But no! "Saw, Shura, they are golden!"
I went to the theater group. Liked! "Do you suffer the disasters of such a long life while the Birnam forest goes to Dunsinan, or arm yourself against the sea?" Oh dear Ophelia! Oh nymph! Close your jaws, heavy as marble, and go to the monastery! "Great, huh ?! But they gave me the role of some pioneer thief that another pioneer had fostered his skates (and he had some kindreds, you see, so poor that they could not buy him skates!) And how his pioneer friends helped him to correct. Something in the style of "Vitya Maleev at school and at home", only much worse. It was a shame to play such a play to the horror. But ... well! So after all - go and rewrite the whole role yourself. And there 26 pages of text! That I am crazy, so much "in Russian" to write. Where is the copier? Under the castle of the KGB! Well, I did not write anything, I sent this theater to hell. Fig I would become so ditched!
Came to college. Temple of Science. And there one professor drunk in the fifth point climbed onto the department and ... come on, bend it. "You fool," says one student, "you're patched!" Do you think they fired him? H-ee! Professor!
Several years ago, in our university, one part-time worker only slightly came to the students "under the bar". Those immediately to the dean - and fired him in half an hour! And then in the party committee, where I turned, I was told: "You can say anything about students, but not teachers!" A good, principled, one might say, communist position, isn't it?
Another professor ... I won't call him either, most likely he was not from evil, who taught us the history of the CPSU, I immediately said whose son I was and that I want to join him in a scientific circle. And he answered me that he studied with my mother in the same group, and that they were friends. What is the result? He gave me a report on the topic: "The course of the personality of Mao Zedong and its consequences." In 1972 year! Freshman. Not knowing Chinese. It has access only to the newspaper Pravda, the magazines Kommunist and Political Agitator. One can imagine that in the end I was born for the "pale numb", although ... he had at his disposal a regional archive, an archive of the Communist Party's Communist Party Committee, where he could easily make me an admission. And to give the topic of local lore, according to our Penza newspapers, about the same White-Czech rebellion - "The White-Czech insurrection and its reflection in the Penza press 1918 of the year." Is it a bad topic for a beginner? I couldn't become a competitor to him simply because of my age, but I would be grateful to him all my life if everything went the way I wanted. And it went, but not because of him, but in spite of.
I began to write my first novel in the second grade, in a notebook in a ticker, with pen # XXUMX "Rondo" in black ink, carefully outputting "pressure, hair, pressure, hair," because of which my writing externally resembled Pushkin's lines. I gave it to my mother, and she told me that I was not a writer! "A lot of mistakes are times, and secondly, you can only write about what you know well. And here you write that in 86, Mexican policemen wore big hats and white collars. Hats still here and there, and where did you get about the collars? Invented? And you can't do that! "
And because she said all right, is not it? But ... it was necessary to add that information for future books should be collected, that for this people read, write out the information they need, that Jules Verne used up more than one notebook in this way. As for literacy ... this is how I happen, and now I make mistakes, but there are proofreaders in publishing houses, which they keep for fixing them.
I wrote my first book on children's technical creativity in 1982 on the scenarios of my TV shows on Penza TV, providing it with photos to confirm the authenticity. And she came out of print only in the 1987 year, and then in Belarus. In Moscow, in the "Enlightenment" editorial office, the reviewer made a comment to me: "We have to recommend the available materials to children (the book was called" Of all that is at hand "), but you have many homemade products from ice cream spatula sticks. But the Chukchi children do not have them! "Well, in the answer I wrote that the reviewer was a fool! With all the ensuing consequences. But then, as soon as this book was printed and sold in 87 thousand copies. in just two weeks, they themselves invited me to publish them, and no Chukchi children interested them anymore. How can you call it? And here is how: "Care about the development of children's technical creativity in the country and the all-round development of the future builders of communism!"
In general, I was surrounded, if not by some "morons of life," then through one, by God! Ignorant, primitive, filled with prejudice ... God, how much I suffered from them before I got the opportunity to send them according to their merits where they should go. I recently met one of my high school "teach" from a pedushnik, that is, "alma obscene", and I told her everything word for word, only with names. And what did she answer me? "It was such a time!" A time when such mediocrity had every opportunity for prosperity?
To be continued ...