Hungarian Foreign Minister Peter Siyarto said that the new Ukrainian law on education should be abolished because it discriminates against national minorities, reports
RIA News
.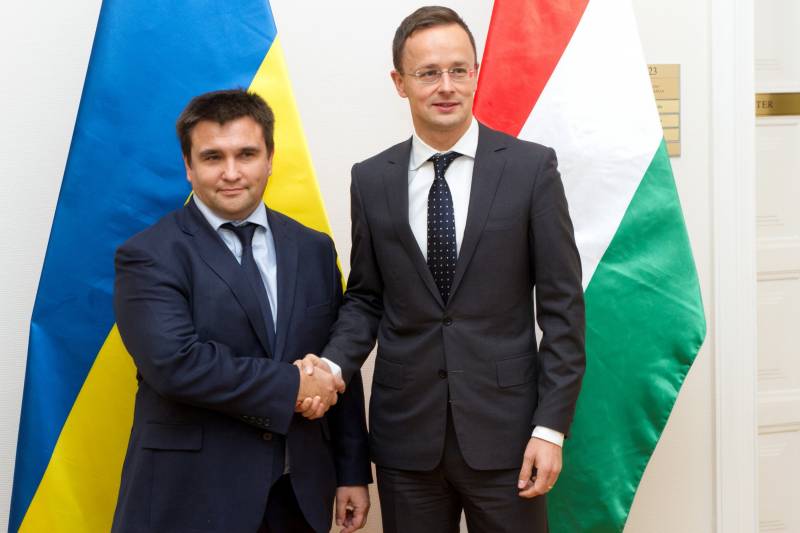 Pavel Klimkin and Peter Siyarto, October 2017.
This law violates the rights of Hungarian and other minorities in Ukraine. It is absolutely not consistent with the bilateral and international obligations that Kiev assumed. This is completely contrary to the various UN declarations and OSCE documents, as well as to the EU's Eastern Partnership. Therefore, Ukraine needs to repeal this law,
the minister said in an interview with the newspaper Izvestia.
He recently stated that Budapest is waiting for Kiev to fulfill the 3-s conditions after the decision of the Venice Commission at the Council of Europe regarding the Ukrainian law on education: start negotiations with national minorities, respect their rights and fulfill the commission's proposals.
Earlier, the Venice Commission published a decision on the language provisions of the Ukrainian law on education. It states that Kiev should "ensure a sufficient share of education in minority languages ​​in primary and secondary schools". In turn, the Foreign Ministry of Ukraine on Monday called for "refrain from interpreting the findings of the commission" and "stop politicizing" the issue.
Recall the law on education, significantly reducing the possibility of learning in minority languages, entered into force on September 28. It is assumed that it will be put into effect in stages - up to 2020 year.