On the eve, Russian President Vladimir Putin managed to visit three countries in the Middle East. Starting from Syria, visiting Egypt, the Russian leader went to Turkey, where Recep Tayyip Erdogan was waiting for him. Negotiations between the Russian and Turkish presidents were held at the Erdogan residence in Ankara.
Heads of state as reported
Kremlin press service
, discussed not only the security situation in the Middle East, but also current issues of cooperation in the economic sphere. In particular, the negotiations raised the theme of the implementation of the Turkish Stream project and the interested European countries joining the project. Also discussed the start of construction of the first
stories
Turkey nuclear power plant - Akkuyu.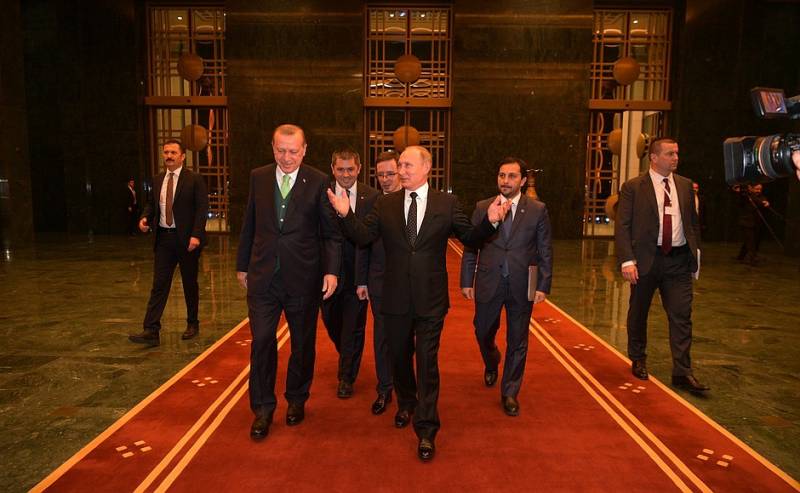 Erdogan called Putin a respected friend and said:
The Russian-Turkish cooperation is becoming stronger every day. There is a harmonious working environment at the political level. These visits and our telephone conversations enable us to regularly evaluate critical issues and develop a common point of view. We will continue this strategic coordination during the seventh summit of the Cooperation Council, which will be held next year. Prior to this meeting, our respective ministers will carry out the preparatory work. This harmony at the political level is positively reflected in economic and humanitarian relations. Bilateral trade in the first ten months of 2017 increased by 30 percent.
During the talks, the President of the Russian Federation and Turkey touched upon the burning issue of Trump's decision to recognize Jerusalem as the capital of Israel. Both leaders agreed that such issues require a decision, based on previously adopted UN resolutions.
Vladimir Putin:
Russia proceeds from the assumption that this settlement should be based exclusively and in full on previously adopted decisions within the framework of the United Nations. The specific parameters of the agreement on the status of Jerusalem are the subject of direct Palestinian-Israeli negotiations.
The President of the Russian Federation noted that the Russian delegation will attend the extraordinary summit of the Organization of Islamic Cooperation, which will take place on Wednesday 13 December. Russia has observer status in this organization.