Pechersk court of Kiev on the eve of the prosecutor's office refused to arrest Mikhail Saakashvili. From the statement of judge Larisa Zokol:
The petition of the prosecutor in criminal proceedings on the application of a preventive measure in the form of round-the-clock house arrest of Saakashvili is not satisfied.
After being released in the courtroom, the former head of the Odessa Regional Administration, accompanied by supporters, headed towards the tent camp deployed near the walls of the Verkhovna Rada of Ukraine. In the course of the movement, Saakashvili managed to hold an impromptu rally outside the Kiev city administration building, calling on supporters to get together for a new mass protest action next Sunday.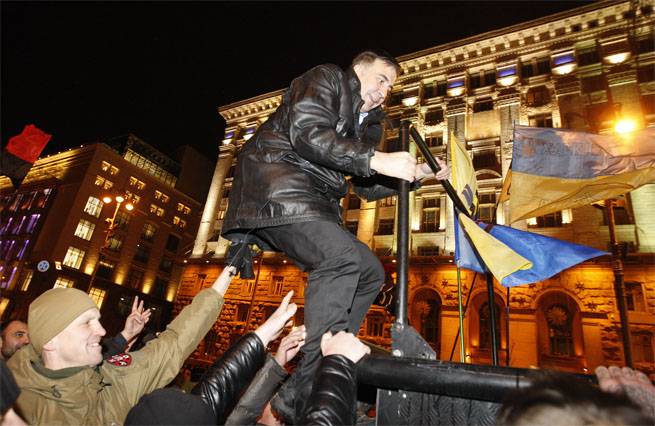 Recall that earlier the Prosecutor General's Office of Ukraine declared Saakashvili wanted under three articles of the Criminal Code, including "attempted crime" and "assisting members of criminal organizations and hiding criminal activities. According to Prosecutor General Lutsenko, Saakashvili is preparing a rebellion in the country in order to seize state power.
Saakashvili himself on the eve said that he had no presidential ambitions, and Lutsenko himself called the state criminal.
Attention is drawn to the fact that on the eve of the rally of protest against the detention of Saakashvili was held in the US capital, Washington. Several dozen people, ethnic Ukrainians, who supported the idea of ​​Saakashvili about the impeachment of President Poroshenko, gathered on it.