Georgia's ex-president Mikhail Saakashvili, who continues the so-called "Mikhomaydan", gave an interview
Independent
. Saakashvili said that in Ukraine, total intimidation is practiced against those who intend to fight corruption in the current government system. The former head of the Odessa region noted that he received threats, as he speaks out with sharp criticism of President Poroshenko.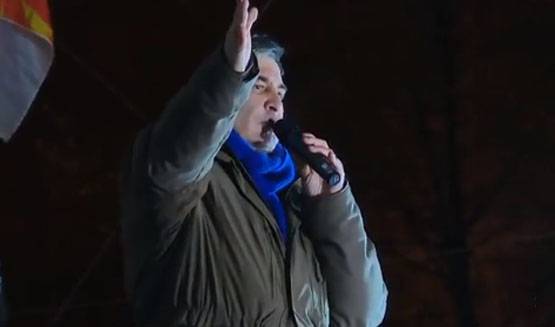 From Saakashvili's interview:
Poroshenko stole billions, he is a cheap mafia. Such a president needs to declare an impeachment.
At the same time, Saakashvili compared Ukraine with Zimbabwe not in favor of Ukraine (quotes
RIA News
):
In normal countries, you can arrange an impeachment procedure. As we saw in Mugabe's example, this can happen even in places like Zimbabwe. But in Ukraine there is no law allowing impeachment, therefore people say that they are dissatisfied with the president, that an investigation is needed against him; they take to the streets and hold rallies to announce this.
Then Saakashvili declared that the West was perplexed, who did not understand how the former president of one country could try to improve another country for the better. According to the ex-president of Georgia, he is the one who is ready to change Ukraine for the better.
Saakashvili:
At the same time, the West is well aware that Ukraine needs a strong leader.
It is noteworthy that more and more Western media speak of Saakashvili precisely as a "policy capable of saving Ukraine and ridding it of corruption."