Here, just before this, VTsIOM published the results of a survey among Russian citizens on the subject of which states from, if I may say so, Russians consider their closest associates as the most worthy and successful politicians. The majority of Russians named three figures - President of Belarus Alexander Lukashenko (with a serious margin) and the head of the Republic of Kazakhstan Nursultan Nazarbayev. Also, the overwhelming majority of the citizens of the Russian Federation in the course of the survey called the mentioned Belarus and Kazakhstan the most friendly towards the Russian Federation.
In the course of other (similar) polls, which were not limited to answer options in the space of the former USSR, such countries (as the most friendly) sounded like China, Cuba, Venezuela, India, Syria.
Yes, where there really. If you look at the results of such surveys, Russia literally basks in friendly support. With a good dozen states, they strive to give Russia their leverage, and more than fifty go to international institutions and declare that they are on the side of Russia. Exactly act ...
It is clear that it will sound emotionally - but to everyone, to say the least, spit on Russia. Spit, and point. Russia is remembered only when it is necessary either to get a loan at a percentage of zero point zero, or to write off a loan previously received. And even better at the same time to write off all the accumulated debts and get a new financial aid from Russia. And as soon as Russia bucks and says that for the time being, they say, it would be possible to perekantovatsya somehow against the background of the crisis, the eternal song begins: "Oh, well, if so, we start negotiations with Western partners - they are certainly without means of subsistence will not leave.
Some fellow citizens say: well, not so much - many trust us, many like Russia no less than their homeland. Well, yes, yes, yes ... It is possible that some citizens are really ready to express confidence. Well, at least that Belarusian, who is the only one who was not afraid of the Olympic wrath, and went to the stadium with the Russian tricolor.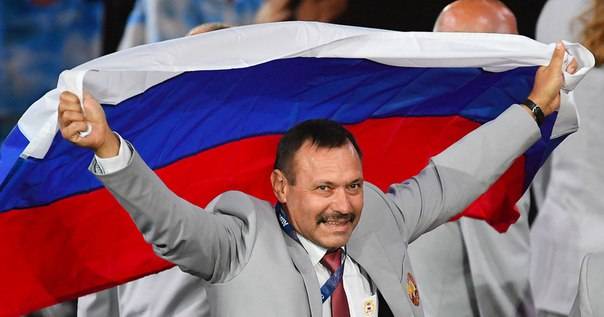 Partners from among the elites are just not capable of this. None of the "friendly" foreign tops will declare solidarity with pure Russian athletes and will not decide to refuse to participate in the Olympic Games in relation to their athletes. No one squeaks. They didn't squeak in the case of the apogee of democracy and the crown of human rights, when the Russian team of Paralympic athletes was removed from the Paralympic Games in Rio.
All of them showed signs of support from their own corner - they say that we are with you, Russians. You hold on there. But at the same time, they shrugged their shoulders: they say, you know, how can we abandon the Games - our athletes are definitely clean, they are ready - you can't lose fees, you can't get sanctions from the IOC. You already enter our position. And so - yes, we are allies. The Crimea, they say, did not recognize, - so we cannot, and then again deprivation of everything in the world, sanctions, additional dislike of the "world community". You really do it yourself. And let us publish some almanac in our website, on the 357 page of which we will print the map of Crimea in colors close to those of Russia ...
Our servicemen for Syria are dying - in battles with terrorist scum, it is known by whom it feeds, helping to liberate the city behind the city. And the parochial political patriots in Syria, who are already being kicked on all sides by representatives of the so-called "international community", cannot even afford to say a word about solidarity with Russia. Let it be on such an issue as support for Russian sports.
Our citizens are gathering from a pure heart assistance to countries that have been struck by a natural cataclysm (flood, fire, earthquake); Russia writes off tens of billions of dollars to states that have only "oil as dirt", and who has said his firm word — hasn't it been time, at least, to morally support the Russians? Everything, sorry, stuck the tongues so far that nothing in the world supposedly happened to comment. Mockery from the "partners" is heard. Friends support is not. Even in words it is not. Is something wrong with our friends?
Although what I'm talking about ... If we don't always have Russian elites directly from the standpoint of solidarity with Russia, then what complaints about foreign elites can we talk about? We have a whole vice-premier sitting in a leather chair, although the scandals around him have been unwound for at least two years, and who didn't hit a finger on his finger in order to defend the national sport or at least find the courage and resign. But it is impossible - the horses do not change at the crossing. Elite breed? ..
We have a whole chairman of the Olympic Committee announces that the IOC decision "has some positive moments." For whom are these moments positive? For those who are ready to change their citizenship to a white flag and a fee from the IOC? If so, then let the whole country throw off such ladies and gentlemen for a fee and pour at least a dozen medals. But somehow it is heard more and more that sport is for athletes, they prepared, trained, spent their strength and money. And the fact that sport is not a tangle in itself, but also an event for the audience, an opportunity to protect the honor of the country, is not already spoken about. Moveton. And why, if you can buy a Brazilian or Korean under the flag of your national team and get sick, strenuously forgetting that it would be better to invest in your youth sport in support of the coaching corps. Yes, of course, sincerely sorry for the athletes who are not caring for their fee, but primarily for the Fatherland. There is no pity for others who have sport for sport, money, advertising, public relations, and for "a flag can be white".
In general, it is quite clear that the partners threw in a situation for us to quarrel, for a collision with their heads. But for the first time? Not the first and not even the forty-first. The problem is that many of us still believe that it is possible to negotiate with the West about something, if you play it strictly by its rules. No, really. Will not work. Most compatriots remember very well what happened to our country when we took other people's rules of the game as a basis. That's right - the country has ceased to exist as a whole. So, to step on the same rake again? ..
But for the Allies, this is a simple, straightforward test. Solidarity or another distance? Of course, one can appeal to the phrase that Russia has only two allies: the army and the navy. But the army and
fleet
, so it turns out that not all problems can be resolved.
By the way, this is a test for all of us, for our country. If we call ourselves a great power on all the broadcasts, then it's time to meet the criteria not only in terms of estimates of oil production. The first criterion of a great power is not even in the number of nuclear warheads. He is able to protect his citizens under any conditions, in any "geopolitical" weather.