Today, the Finns celebrate the centenary of the independence of their state, the festivities began the day before, 100 national flags were raised in the center of Helsinki, reports
RIA News
.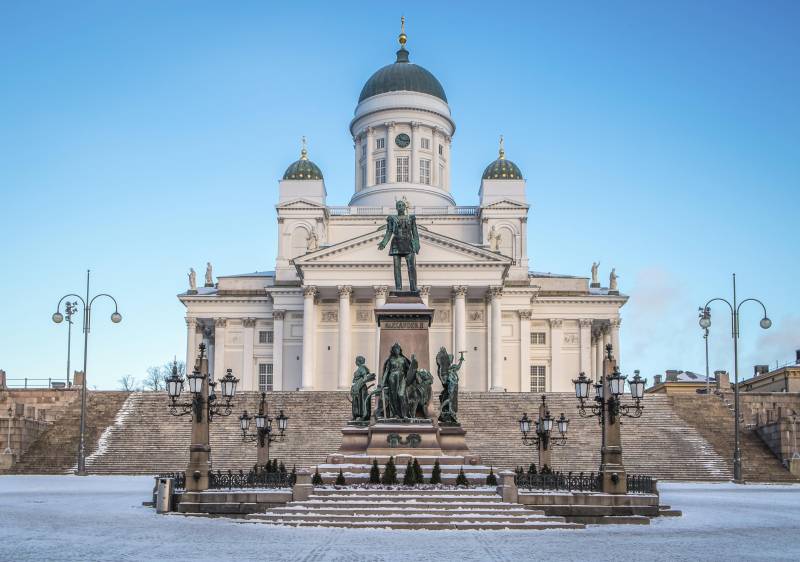 The agency recalls that the Parliament of the Grand Duchy of Finland declared independence from Russia 6 December 1917 of the year, and on December 31 the state independence of the country recognized the Council of People's Commissars of Soviet Russia headed by Lenin.
The central events of the day will be the military parade and the traditional reception at the country's president. Both events will be broadcast on state-run television channels.
"A military parade in honor of the centenary of independence will take place approximately 400 kilometers from the capital, in the city of Kuopio (the center of the province of Northern Savonia). A parade of the country's Defense Forces involving thousands of soldiers and 48 units of military equipment will begin in 13 hours. Simultaneously with the march, 24 fighter will fly over the city, "the message says.
Gala reception at the Presidential Palace will begin at 19 hours. According to the agency, "1900 people are invited to it - people of culture, sports, economics, politics, ambassadors of foreign missions". Guests will be treated to traditional Finnish dishes from different years, and the halls of the palace will be decorated with blue and white flowers. Reception will last up to 23 hours.
Holiday worship services will be held in all Finnish cathedrals, and admission to all Helsinki museums will be free.
The culmination of the holiday will be fireworks, which will be organized in all cities of the country. In the capital, a salute will be launched in 22 hours over the South Harbor.