The Japanese Ministry of Defense intends to modernize the automated missile launch detection and missile defense management system (Japan Aerospace Defense Ground Environment, JADGE) in order to be able to intercept North Korean missiles launched along a steep trajectory. This was reported on Tuesday by the Nikkei newspaper.
This system, using Japanese radar, monitors missile launches, compares the received information with data from US military satellites and from other sources, and based on the analysis of this information, calculates the expected trajectory of the missile and the place of its fall. If, according to calculations, the missile hits the territory of Japan, the ABM automated control system instructs the ships of the naval self-defense forces with interceptor missiles and the Patriot PAC-3 ground complexes to intercept.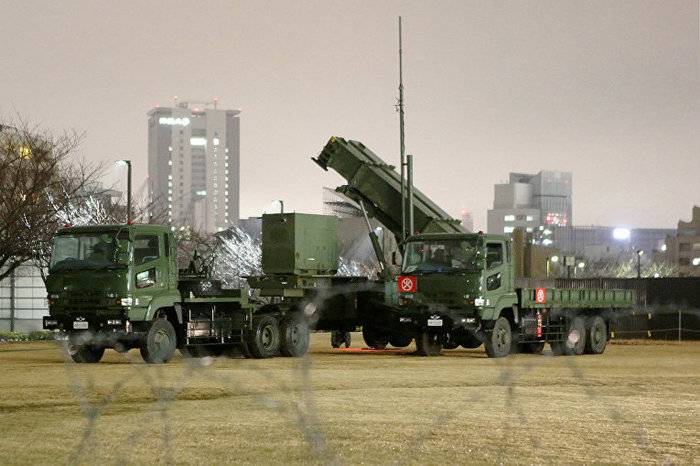 However, as military experts believe, in the event of a rocket launching not along the usual, but steep trajectory, as the DPRK did during the 29 rocket test in November, the automated detection and control system of the missile defense may not have time to make appropriate calculations and determine who launched the rocket - an ally or a potential adversary. In this case, the rocket at the final stage of the flight approaches the target almost at a right angle and at tremendous speed.
Modernization of an automated missile defense detection and control system is just one of the stages in strengthening the missile defense system in Japan. Tokyo, according to media reports, has already decided to actually purchase in the US and by the year 2023 to deploy ground-based counterparts of the Aegis-Aegis Ashore ship systems. For these ship-based and ground-based systems, Japan, together with the United States, is developing new SM-3 Block 2A interceptor missiles, which, according to the idea, should have a radius of up to one thousand kilometers instead of an estimated 500 km from the current SM-3. In addition to the 2020 fiscal year, it is planned to increase the number of Self-Defense Forces units using the Patriot PAC-3 complexes, from the current 17 to 28, reports TASS