The Egyptian Air Force received the last three single-seater Rafale EM fighters, which arrived from France at the end of November.
TSAMTO
.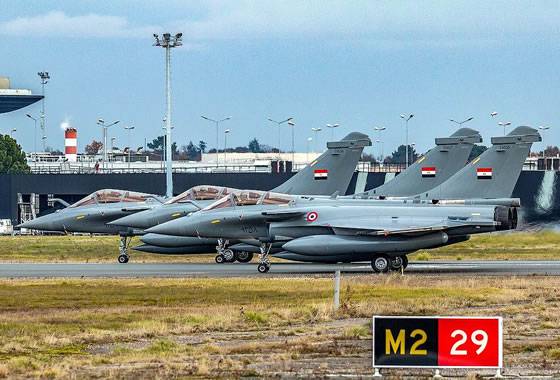 The contract from 2015 on the 24 multi-purpose fighter Rafale provides for the supply of Egyptian air forces 16 twin Rafale DM and 8 single Rafale EM. The transaction value is estimated at 3,6 billion euros.
"The first batch of three double planes was delivered by the Egyptian Air Force in July 2015, three more - in January 2016. Flight tests of the first single "Rafale" for the Egyptian Air Force began in July last year. The first three single-seat fighters of the Egyptian Air Force took on 4 on April 2017. Two more single-seat aircraft arrived in the country 26 July 2017 of the year, "- said in the material.
The Egyptian Air Force has already used French fighters in combat conditions, in particular at the end of May they were used in an operation against the militants of the IG (prohibited in the Russian Federation) in Libya.
The Egyptian Rafale fighter aircraft are reportedly armed with air-to-air MICA missiles (Missile d'Interception, de Combat et d'Autodefense), SC-ALP SCALP (Systeme de Croisiere Autonome a Longue Portte), and also AASM (Armement Air-Sol Modulaire) modular air-to-ground ammunition. "
Currently, the Egyptian Air Force also has MiG-21MF / UM, F-16A / B / C / D, F-4E fighters "Phantom, F-7B, Alpha Jet, Mirage-2000EM / BM", " Mirage-5SDE / SDD / E2.