The Turkish authorities expressed outrage at the ongoing proceedings on the issue of "corruption in the Turkish government". This is not the first attempt by the United States to declare the presence of corrupt officials in the Turkish leadership, but now the situation has reached the US court.
Speaking at a meeting of the Justice and Development Party, Turkish President Recep Tayyip Erdogan advised the United States "to take a closer look at studying corruption among the authorities of the United States themselves." After that, the Turkish president made a statement in which he called the trial in the United States "an attempt to change the constitutional order of Turkey."
Information Service "Anadolu" leads Erdogan's statement:
This is a conspiracy against Turkey.
Then Erdogan touched upon the US plans to recognize Jerusalem as the capital of Israel. According to the Turkish president, if the United States takes this step, then Turkey will convene an extraordinary congress of delegates from the Organization of Islamic Cooperation countries and sever diplomatic relations with Israel.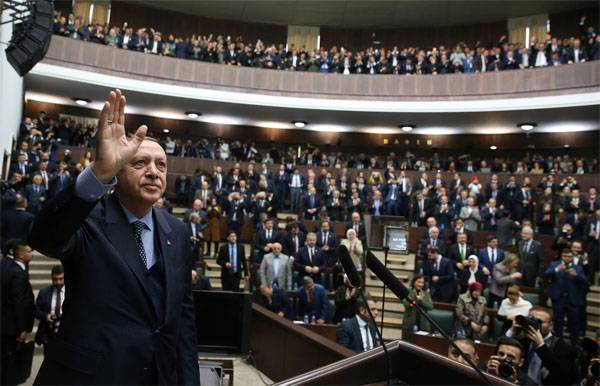 Erdogan:
Turkey will monitor this situation to the end.
Recall that an article appeared recently in the NYT stating that Saudi Arabia offered to consolidate Jerusalem's status of the Israeli capital, leaving only one of the city's districts to Palestine, and without recognition of Palestine's independence "in exchange for Palestinian security." Riyadh hastened to refute these statements, noting that the work on the road map on a Palestinian-Israeli settlement is continuing jointly with the United States.