The head of the Israeli missile defense program (PRO), Moshe Patel, said that today he had to abandon the conduct of anti-missile tests for the Arrow-3 system. At a meeting in the Ministry of Defense of Israel, Moshe Patel reported on the reasons that forced him to refuse to conduct tests after the launch of the goal:
Shortly after the target was launched, it began to behave in such a way that it did not meet the predetermined security parameters. In this regard, we were forced to stop testing.
Patel noted that now engineers are busy studying the issue related to why the target released for testing anti-missiles began to behave in an unpredictable way. This is reported by the portal.
DefenseNews
.
The missile defense specialist noted that all the collected data will be carefully analyzed and will form the basis of the new testing phase.
At the same time, the manufacturer of the anti-missile system of the Arrow-3 complex (IAI - Israel Aerospace Industries) stressed that the cancellation of the missile test of the missile defense system is in no way connected with the operational parameters of the anti-missile itself.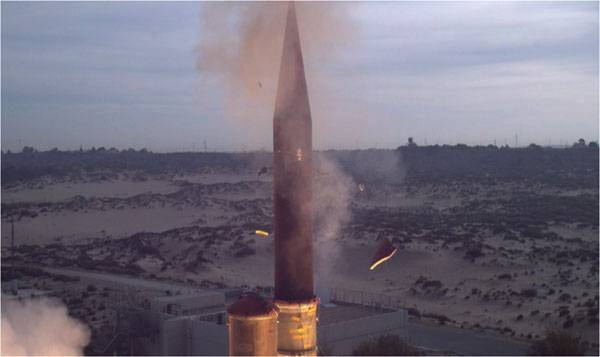 From the statement by IAI Executive Vice President Boaz Levy:
We were fully prepared for these tests. In today's case, it was decided to stop the process even before the interceptor missile was launched. We will analyze everything that happened today and prepare for the next test as quickly as possible.
The Israeli Ministry of Defense confirmed that the problems with the tests arose precisely with the air target, and not with the antimissile itself. This led the experts to ask a question: for the use of a missile defense system based on Arrow-3, should the target always behave predictably for the Israeli troops?
For reference: Arrow-3 missile defense system is developed in cooperation with the Israeli company IAI and American Boeing.