The development of combat railway complexes (BZHRK) of the new generation was discontinued. The topic is closed, at least for the near future. This was reported by an informed representative of the military-industrial complex of Russia. The reason, presumably, is the lack of funding.
A year ago, it seemed that rocket trains under the name Barguzin would soon begin to become the Strategic Missile Forces.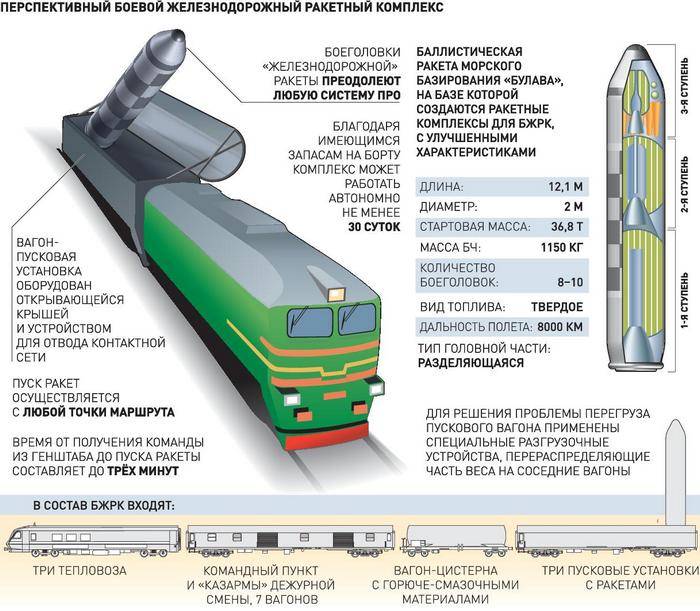 Немного
stories
: In September 2009, the command of the Strategic Missile Forces expressed the opinion that the development of a new generation of rocket trains with Russian-made missiles may soon begin. because on the Soviet BZhRK there were missiles of the Yuzhnoye design bureau, and Kiev prohibited the Yuzhmash specialists to cooperate with the Strategic Missile Forces of Russia in all areas.
In December, 2011, the commander of the Strategic Missile Forces, Sergey Karakaev, almost officially announced the beginning of the revival of the BZHRK. And in April, 2013, Deputy Defense Minister Yuri Borisov said that the Moscow Institute of Thermal Engineering is embarking on research and development, a new-generation railway missile systems.
At the end of 2014, the command of the Strategic Missile Forces once again, as reported in the media, publicly confirmed that the BZHRK would be reborn. Even there was information that the adapted ballistic missiles of the Yars complex would be used as their missile weapons.
At the end of last year, it was announced that successful throwing tests of an intercontinental ballistic missile for a combat railway missile complex had passed. The launch was carried out by the Yars rocket model.
The Moscow Heat Engineering Institute, which is developing a new BZHRK, has not yet officially confirmed the official information about the cessation of work on Barguzin, reports Rossiyskaya Gazeta