US News Agency
Associated Press
publishes material based on reports from sources in the US Army. The submission says that the command reward system for success in units and formations leads to an effect that negatively affects real success in the structure of the troops. In particular, it is noted that the command of the troops, in order to increase the number of "pluses", goes for a frank understatement of standards in the training of military personnel.
In particular, it is reported about the outbreak of the scandal in the elite formation of US ground forces. Speech about the so-called "green berets".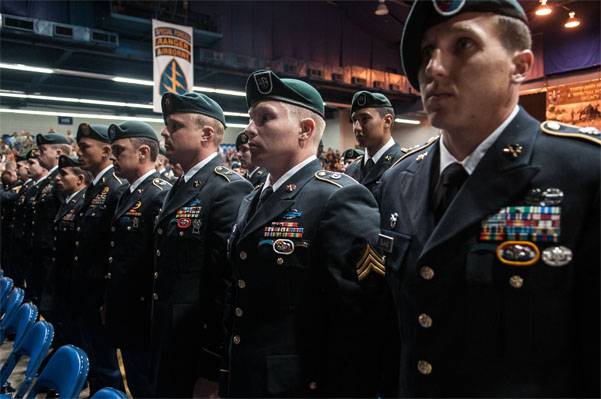 An unknown person sent an e-mail to the military structures asking them to look into lowering the bar for training US special forces. The material states that the "green beret" of the special forces of the ground forces today can be obtained much easier than it was traditionally. The e-mail stated that violations of the regulations for the preparation and verification of fighters occur at the Fort Bragg military base in North Carolina.
Representatives of the military base command have already responded to the publication. Major-General Kurt Sonntag, commander of the ground forces, said he did not know what it was all about. According to General Sonntag, out of the 2 of thousands of applicants, the special forces green berets were received by "only 541 people".
Sonntag:
We will thoroughly check all the claims contained in the material and conduct an internal investigation. But our standards relied and rely on items that correspond to the high quality of the training.