After the well-known processes with the change of leadership of the Luhansk People's Republic, conversations about the possibility of combining the LC and the DPR are increasingly heard. The main obstacle for the unification of the republics in both Donetsk and Lugansk is the still unfulfilled Minsk agreements. Recall that the agreements in Minsk with Ukraine were signed by two separate republics. On this basis, the LDNR believes that the unification can give Kiev a reason to talk about the breakdown of agreements.
In fact, Ukraine itself is doing everything so that Minsk-2 is not executed under any circumstances. In Kiev, they constantly say that the agreement "has become obsolete." And if so, then is there any reason to pay attention to the fact that Ukraine, itself mired in violations, will accuse Lugansk and Donetsk of disrupting the Minsk process? Moreover, there is no de facto process of this.
Newspaper
"News"
publishes material in which the views of representatives of the top leadership of the DPR and the LPR are presented.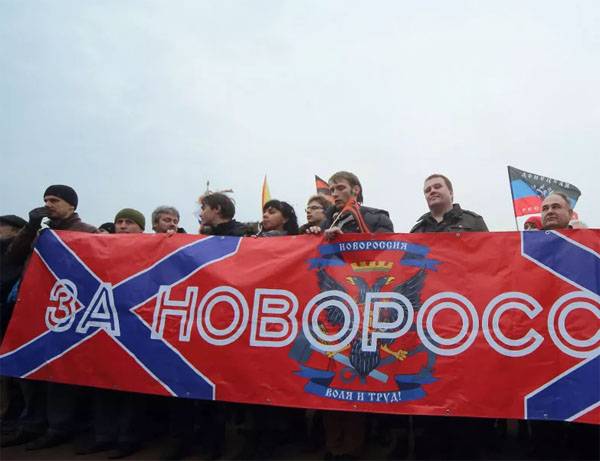 From the statement of the Chairman of the People's Council of the DPR Denis Pushilin:
Us (DNR and LNR) and so on at the moment binds a lot of common issues, and we take more common decisions. Association as a whole is possible. For this you need an optimal moment. In my personal opinion, with one leadership, many issues are much easier and more efficient to solve.
Deputy Chairman of the National Council of the LPR Dmitry Khoroshilov:
The idea of ​​New Russia is being discussed. We have already adopted a constitutional act on the creation of Novorossia within the framework of a confederation. In principle, as such, this structure is enshrined at the legislative level, but it is not yet clear that it earns serious money. The point is the Minsk agreements, the two republics are their signatories. If you create Novorossia now, then the question of the Minsk agreements immediately arises.
The republics believe that in the case of the unification of the republics, the current head of the DPR, Alexander Zakharchenko, could lead a single state entity.