Raising the flag on the icebreaker of the new generation "Ilya Muromets" (project 21180), which was built for the Russian Navy, will take place on November 30, reports
RIA News
Post press service Admiralty shipyards.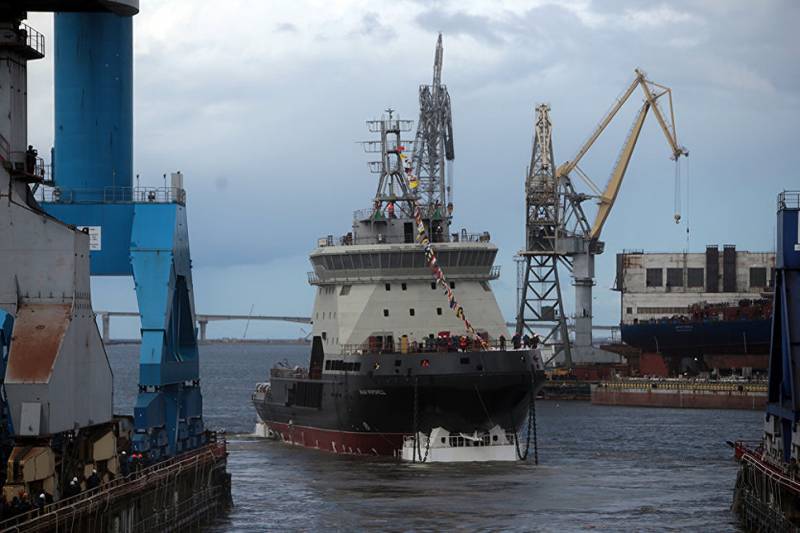 On November 2017, XNUMX, the Admiralty Shipyards will host a ceremony to raise the flag of the Auxiliary
fleet
The Russian Navy on the icebreaker Ilya Muromets, the release said.
It is reported that "a new multi-purpose vessel is intended for icebreaking support for basing and deploying fleet forces in ice conditions, self-guiding ships and vessels, as well as their towing support in ice conditions."
The 21180 icebreaker is a new generation vessel with new principles of electric propulsion and a modern power plant. The steering propellers are mounted on it outside the hull of the vessel with the help of a hinge mechanism and can rotate around the vertical axis 360 degrees, which allows the icebreaker to move freely with the bow, stern or side.
"Ilya of Murom" was laid in April 2015 of the year, launched in June 2016 of the year. The vessel will be used to support the activities of the Arctic grouping of the Russian Navy. Its length is 85 meters, the width is 20 meters, the draft is 7 meters, the speed is 15 knots, the ice-breaking capacity is 1 meters. Crew - 32 person.