The newspaper "Red Star" has published material on the comparative tests of automatic machines caliber 5,45 mm AK-12 and AEK-971, as well as caliber 7,62 mm AK-15 and AEK-973.
It is noted that the machines were compared with the standard samples and among themselves to develop recommendations for adopting the best type of product into service. The work was conducted in three control groups: paratroopers, marines, motorized riflemen.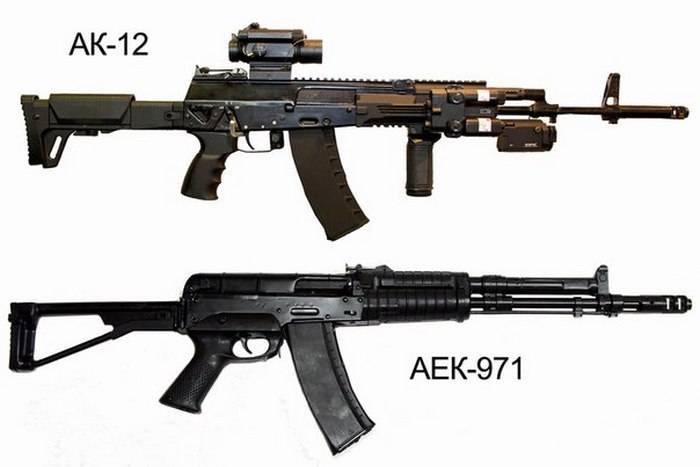 The results showed that the effectiveness of the AEK-971 machine gun relative to the AK-12 machine gun is higher in 1,1 times at a distance of up to 300 meters, but so much lower at long distances. At the same time, the effectiveness of firing relative to the standard AK-74М increases two-fold for AK-12 and AK-15, and for AEK-971 it increases by 2,3.
In August 2016 of the year, it was reported that the trial military operation of the "soldier of the future" outfit for Russian equipment would end in November-December of 2016, after which one of them would be included in the "Warrior". According to the results of the operation, they were going to choose a machine gun.
However, as you can see, the tests are still ongoing.
At the same time, even earlier, the Defense Ministry expressed discontent with both AK-12 and AEK-971, primarily because of their cost.